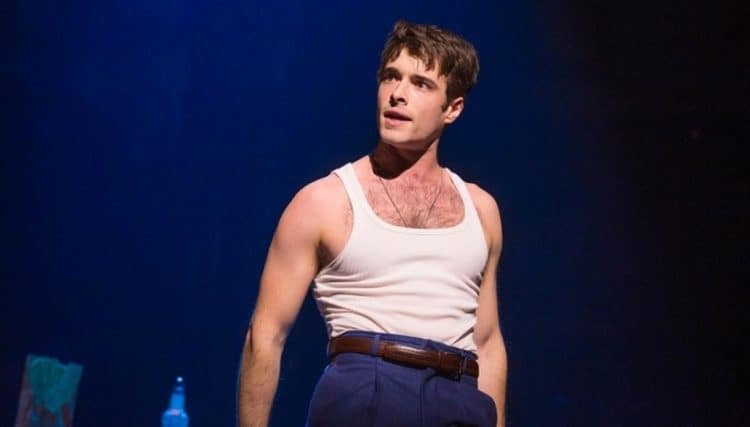 Corey Cott may not have a long list of on screen credits, but he's got a lot of professional acting experience none the less. He has had a very successful theater career that includes roles on Broadway. He has appeared in several well-known productions including Newsies and Gigi. Now he's looking to bring the same success he's had on stage to the small screen with his role on the new Fox series, Filthy Rich. The series focuses on a wealthy southern family and Corey plays one of the main characters, Eric Monreaux. Although the show is just getting started, it's already shaping up to be a big success. Continue reading for 10 things you didn't know about Corey Cott.
1. He Plays The Piano
Corey's background as a singer is evident in the work he's done on stage. He has a great singing voice and this is something that has even been incorporated into his character on Filthy Rich. But singing isn't the only musical talent he has. Corey also took piano lessons for several years and still enjoys playing for fun.
2. He's A Carnegie Mellon Alum
Some people may feel like higher education can be a waste of time and money for people who want to pursue careers in acting, but Corey Cott would beg to differ. He is a proud alumnus of Carnegie Mellon University's drama school where he earned a bachelor's degree in 2012. His time in school definitely prepared him for the long journey to finding success as a professional actor.
3. He Sells Videos On Cameo
If you or someone you know is a big fan of Corey's work, you may be excited to know that he has an account on Cameo. This platform allows celebrities and influencers to record and sell personalized video shoutouts. At the moment, Corey charges $99 for a video. For an extra $2.99 you can even have a direct chat session with Corey.
4. His Brother Is Also A Successful Actor
Corey is the older brother of fellow actor, Casey Cott. Unlike Corey, Casey has focused most of his attention on building a TV career and his hard work has certain paid off. He has been a cast member on the hit show Riverdale since season one, and he's been a series regular since the second season.
5. He's Got A Solid Social Media Following
Even though most of Corey's professional acting work has been in theater, he is still quite the celebrity. He is very active on Instagram and already has a following of 144,000 people. As the show takes off, there's no doubt that his following will grow even more.
6. He's A Husband And Father
There are lots of people out there who believe you can't have it all, but that's not always true. Corey has devoted lots of energy to his career, but not at the expense of his personal life. He has been happily married to Meghan Woollard since 2013 and the couple has two children together.
7. He Enjoys Traveling
Corey is a very active person who enjoys living his life to the fullest. One of the ways he's been able to do this is by traveling all over the world. Over the years he has gotten to do lots of traveling both naturally and internationally. Some of the places he's been include Ireland and England.
8. He's Looking Forward To Doing More TV Work
Musical theater has and always will be Corey's thing, but he's genuinely looking forward to expanding his TV career. He said, "I've been singing for eight years to make a living and I love musical theatre and I will always pursue that for as long as I can, but there's a little more freedom with TV financially and schedule-wise, and I can just do a little more than I could when I am just being an athlete on stage eight days a week."
9. He's A Golfer
Corey is the type of person who loves to spend his free time outdoors. When the weather is nice and he isn't busy with work, you can usually catch him doing something fun outside. One of his favorite things to do, however, is to enjoy some time on the golf course. He may not be a pro golfer, but he's definitely got some skills.
10. He's A Mississippi Native
You may not detect a southern accent in his voice, but he is definitely a southern boy at heart. Corey was born and raised in Columbus, Mississippi which is where he first developed an interest in acting. He currently lives New York City with his wife and children.