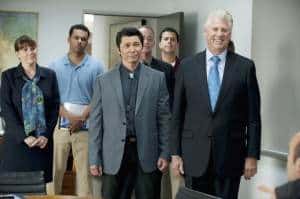 Tonight marks the penultimate episode of Cougar Town, as next week means a two part season finale. Lou Diamond Phillips will be guest starring as…well, Lou Diamond Phillips. Two other guest stars will also be appearing: Barry Bostwick as Roger and Robert Clendenin as Tom.
In tonight's all new episode of Cougar Town (which starts a minute late, by the way), Travis continues to suffer from his recent break up with Kirsten. Because of his downward spiral, Jules decides to institute a policy of tough love to snap him out of it.
Andy, meanwhile, gives Bobby and Laurie advice about their new business. Advise which includes an appearance by Lou Diamond Phillips. Ellie and Grayson face some danger when they're threatened by three occult kids.
Below are sneak peeks and promo photos for the episode. Don't miss an all new episode of Cougar Town tonight, beginning at 9:31 p.m. ET, on ABC. The season finale will air on May 25 from 9:31 p.m. to 10:30 p.m.
[imagebrowser id=1034 template = flipped]
clarissa @ tvovermind.com
twitter.com/clarissa373
twitter.com/tvovermind