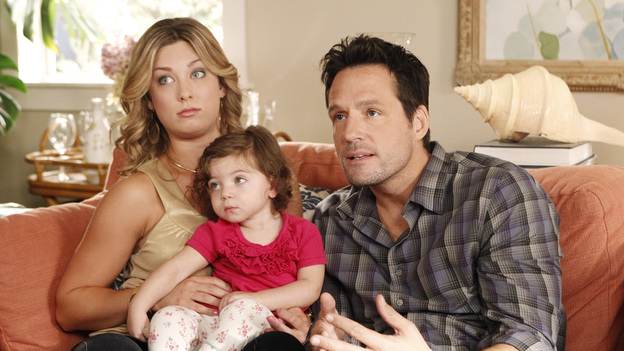 If you thought that the addition of baby Tampa would lead to the gang from Cougar Town becoming mature and responsible, you may need to put down the wine. Just sayin'. As a friend.
The Cul-de-sac Crew may have more adult things going on around them, like committed relationships, babies, and engagements, but the sneak peeks for their return from hiatus indicate them as still being the people we love. The focus has shifted back to the wedding a little bit, with Jules looking to find a good great perfect photographer to capture her special day. It seems that there may be a viable candidate under own roof in Travis, recently de-helmeted to the surprise of no one…as none of the gang noticed it in the first place. Trav's relationship with his mother is one of my favorite dynamics in Cougar Town, partially because it can be played as both creepy and sweet without crossing the line either way.
An episode where he seeks her approval over something for the wedding? Look out.
Cougar Town has added a love interest for Bobby in Travis's professor and it's time the two hung around the rest of the guys to see how they interact. This being Cougar Town, it naturally leads to Bobby and Andy nearly making out in front of Ellie and Angie, therein transforming into an impromptu make out party. It's been nice seeing Bobby make a little forward progress in his life, however rocky his relationship with Angie started. One of his main positive traits is that he's not afraid to be himself, so Bobby "Wrong Balls" Cobb, the man, the myth, the razzle frazzle is here to stay.
Elsewhere on Cougar Town, Jules reveals details about her first wedding, Ellie shows off her skills as the Jules Whisperer, and Laurie hopes to be pregnant on her wedding day.
Cougar Town airs tonight at 8:30 on ABC.