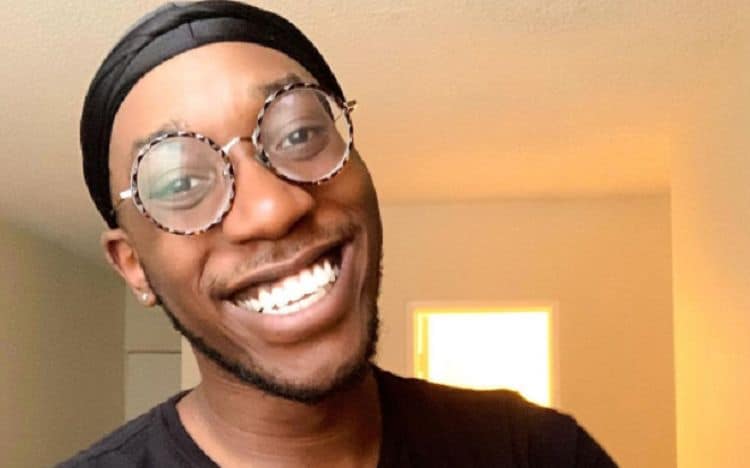 When Netflix's The Circle was released in January 2020, it didn't take long for it to become one of the most talked about shows on the streaming service. Now, a little more than a year later, the series is back with an all-new cast of people ready to compete for a chance to win $100,000. Courtney Revolution is one of the latest people to step into The Circle and he's hoping to make it all the way to the end. Courtney's fun personality also means that he will likely end up being a fan favorite even if he doesn't end up winning the show. The first four episodes of season two have already been released, but viewers will have to tune in each week for new episodes. Here are 10 things you didn't know about Courtney Revolution.
1. He's Always Dreamed Of Living In Los Angeles
Although most sources cite that Courtney is originally from Los Angeles, that isn't actually the case. We weren't able to find any information on his actual home town, but in an interview with Voyage L.A., Courtney mentioned that he has always wanted to live in Los Angeles so when he got the chance to move there he did exactly that.
2. There's A Reason He Chose To Lie Abot His Occupation On The Circle 
Having a strategy is a major key for success when entering The Circle and Courtney has a few tricks up his sleeve. While staying authentic is a major part of his approach, he did switch up his occupation for the sake of the show. Although he's a content creator in real life with a heavy focus on pop culture, he told the rest of The Circle that he is a barista. According to Marie Claire, he did this so he wouldn't be perceived as nosy.
3. He's A YouTuber
Like many of the other contestants on this season of The Circle, Courtney already has a pretty significant following on social media. He has a YouTube channel that has gotten well over 380,000 views and he also has more than 21,000 followers on Instagram.
4. He Hosts A Podcast
If you love seeing Courtney on The Circle and want to hear more from him, you'll be happy to know that he is the co-host of a podcast called Overheard in the Pantry. According to its description, the show is " a fun and hilarious podcast in which pop culture commentators Phylesha and Courtney Revolution discuss happenings in celebrity culture, the YouTube community and more! "
5. He Loves To Write
When Courtney was younger he was very passionate about writing and it's something he hopes to revisit someday. While talking to Voyage L.A. Courtney said, " I used to write my own short stories and animated series concepts. Maybe one day I'll be able to bring one of those older ideas to life!"
6. He Interned At Disney
Courtney has had a lot of cool opportunities over the years and one of them was the chance to intern at Disney. It was through this internship that he realized that he had a special gift for communicating with people. Fortunately, his communication skills helped cover the fact that he wasn't that great at his actual job.
7. He Enjoys Spreading Positivity
The world is full of negativity and we all know how easy it can be to fall into the trap of pessimistic thoughts. Courtney, however, does his best to always see the bright side of things and it's a perspective he enjoys sharing with others. He has an entire highlight section on his Instagram profile dedicated to sharing positive quotes and memes.
8. He Sells Merchandise
Courtney isn't just creative, he's also tapped into the business side of things. Courtney has an online store where he sells a variety of colorful and creative items including masks and hoodies. His sales will likely go through the roof thanks to his appearance on The Circle.
9. The Circle Is His Only TV Experience
As of now, The Circle seems to be the only show that Courtney has been in but the fact that he used to have a profile on Backstage means that he has likely been interested in the entertainment industry for a long time. It'll be interesting to see if he decides to transition into more screen opportunities once The Circle is done.
10. He Loves Fashion
Style is one thing that Courtney can say that he has plenty of. Courtney really enjoys fashion and he uses it as another way to express his personality. He isn't afraid to take risks and experiment with bold colors and patterns and he always manages to pull it off.