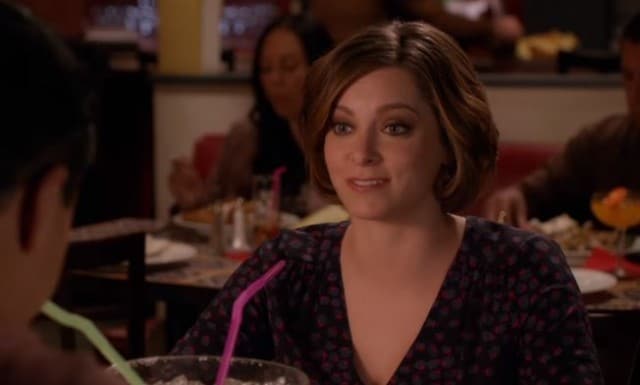 A lot of Rebecca's plans for her and Josh haven't worked out too well throughout the first season of Crazy Ex-Girlfriend, and that appears to be the case again in tonight's episode of the CW series. In the all-new hour, titled "Josh And I Work On A Case!," Rebecca tries to repair her relationship with Josh by working on a case that she think will bring the two of them closer together, but if the sneak peek below is any indication, that's not going to happen.
In the clip below from tonight's Crazy Ex-Girlfriend, Josh and Rebecca share a margarita together while at dinner at Jalapeno Jack's. The two of them discuss the problems that Josh is having with his apartment, before Rebecca tries to make him jealous by talking about her relationship with Trent. However, just when it appears that Josh is getting interested, their dinner for two suddenly becomes a meal for six when four of Josh's friends arrive, ruining any type of romantic moment that could have happened between Rebecca and her ex.
Crazy Ex-Girlfriend airs Mondays at 8 p.m. on The CW. Check out two sneak peek videos from "Josh And I Work On A Case!" below:
REBECCA TAKES A CASE SHE THINKS WILL REDEEM HER WITH JOSH — After the texting debacle, Rebecca (Rachel Bloom) attempts to recover by pursuing a case she thinks will bring her closer to Josh (Vincent Rodriguez III). Darryl (Pete Gardner) tries to reconcile his feelings for White Josh (guest star David Hull), while Greg (Santino Fontana) is obsessed with trying to uncover Rebecca's real motives for taking on the case. Donna Lynne Champlin and Vella Lovell also star. Steven Tsuchida directed the episode written by Aline Brosh McKenna and Rachel Bloom.
[Photo via YouTube]