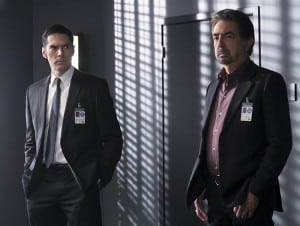 It's the two-hour season finale of Criminal Minds tonight and The Replicator will target all of the BAU team once again, but this time it looks like they are really in danger. Hotch also has a personal matter to deal with as his brother Sean has got himself mixed up in some serious drugs related business and this will form the first hour.
The Replicator was introduced in the season 8 premiere, but it wasn't until halfway through the season that the team realized that they were being stalked by someone recreating old cases that they had investigated. The extent of The Replicator's obsession was revealed in the episode "Carbon Copy" as the team discovered a vast amount of photos of themselves covered with the word "Zugzwang," a word that relates back to Reid and his girlfriend Maeve.
Last week Alex received a surprise visit from her husband James as he has quit his job overseas and taken a position at Harvard. James had also secured Alex a role there but after much soul searching she turned this down as her work with the BAU means to much to her. Alex might regret this decision when she ends up on the receiving end of The Replicator's plans for the team and executive producer Erica Messer told TV Guide that "Introducing a hero in Alex Blake in our premiere and introducing The Replicator at the end of that episode was not a happy accident. It was all meant to weave together." Messer also added that this whole season has woven The Replicator story throughout; even when they haven't been that blatant about it "We've given a lot of clues throughout the year as to who he is. I think the identity of who he is will make sense. You'll see the pieces of the puzzle we put together and if you go back and watch this season, you'll be able to see how we dropped clues here and there about him."
Hotch is in New York visiting his girlfriend Beth (guest star Bellamy Young) and like Blake and her husband they are making the long distance relationship work. They are interrupted by a phone call from Hotch's brother Sean who worries that he is caught in the middle of some drugs related deaths. As you can see in the sneak peek below someone has been making a super drug that has the street name "Doctor Death." Another guest star on tonight's finale is Star Wars' Mark Hamill and it looks like he could be involved in this as he has a background in bio chemistry, but is he also linked to The Replicator?
Watch a sneak peek from tonight's episodes "Brothers Hotchner" and "The Replicator" below.
Criminal Minds will return in the fall. For more on the CBS 2013-2014 schedule head here.
[cf]video_one[/cf]