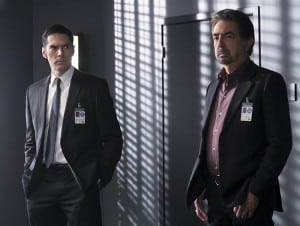 This season of Criminal Minds has dipped in and out of the Replicator storyline and tonight is the first episode that is fully dedicated to this unsub. So far we have seen brief moments of the team being photographed and stalked by this killer and the team are aware of this person.
The number of cases that this unsub is copying is on the rise and Philadelphia is the next destination, with a number of victims turning up that match a recent case. It appears as if the profilers are being profiled, with the phrase "Zugzwang" making another appearance.
Last time we heard this word was in the episode entitled "Zugzwang" in which Reid's (Matthew Gray Gubler) girlfriend Maeve (Beth Riesgraf) was killed. The word comes from chess and it refers to a situation "where one player is put at a disadvantage because he has to make a move when he would prefer to pass and make no move." This is meant as a taunt and to show that this unsub has an intimate knowledge of this team beyond the cases they are working on. Are they all at risk?
Scott Grimes (Band of Brothers, E.R.) guest stars tonight as a suspect with links to a former BAU agent and the team think they could be closing in on the orchestrator of the whole case. It won't be as simple or easy as this and the team will find out that the Replicator has a rather large and meticulous plan.
Executive producer Erica Messer spoke to TV Guide about this storyline and what viewers can expect from tonight's episode "The Replicator wants to be on their radar now. He's sending a message. We thought it was our team in general that he was targeting and now by calling out our leader, it's a new ballgame. But is he going to target each of them? Is someone next? That's what they're trying to figure out. In the roundtable, Hotch says, 'This is where his game changes. He used to be following us and now he wants us to follow him.' It seems only natural that that's your nemesis' next move."
Are you looking forward to the Replicator becoming the focus of tonight's episode?
Watch a promo for "Carbon Copy" below.
http://www.youtube.com/watch?v=Ln6urvpCDLQ&hl=en_US&version=3