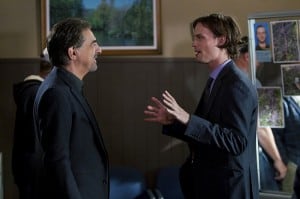 Reid has been distracting himself with work and tonight's case on Criminal Minds is one that Reid discovered by looking in local newspapers. The BAU team heads to Rapid City when two male victims have been killed in a ritualistic manner. Tonight's episode is also directed by Matthew Gray Gubler and this is now his fifth time behind the camera (and second time this season).
The reason why Reid is obsessing over work is because he is still grieving for Maeve as it's only been a few months since she was killed. This was the first relationship of this kind for Reid and the circumstances behind their intense correspondence and when they first met have possibly made it hard for Reid to come to terms with this loss. Their first face to face meeting was when Maeve was murdered and this is a lot for anyone to deal with. Luckily for Reid he has an excellent support network around him, if he will allow himself to open up to them.
One key aspect with tonight's case is the level of natural toxins in the blood and this points to a healer who is doing the opposite of what their title suggests. There are plenty of potential suspects due to the region they are in and the logging industries potential harmful impact on the environment. In the sneak peek clip Rossi alludes to some former drug taking in a hilarious aside. As you can see in the promo below all arrows point to a local lodge and there is a Shining like atmosphere to this place (minus the snow).
Matthew Gray Gubler's directing style and most of the episodes he has directed tend to have an otherworldly quality; from the gothic nightmare in last season's "Heathridge Manor" to this year's marionettes in "The Lesson." The style of tonight's episode also features some of these aspects thanks to the hallucinogenic properties in the poison that the victims are given and once again Gubler is given a chance to shine as both a performer and as a director. In the promo photo slideshow below you can see a behind the scenes shot of Gubler doing his thing behind the camera.
Watch a promo and a sneak peek from tonight's episode "Alchemy" and browse through the photos by clicking on the link below.
http://youtu.be/AIP1hyk6PwE
http://youtu.be/h_DBwWKebTw