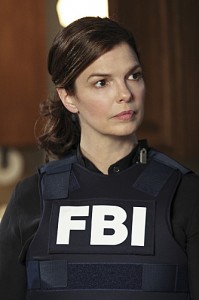 On tonight's Criminal Minds the team head to Detroit to deal with a particularly twisted unsub and Blake has a big personal decision to make after she receives a surprising proposition. There is also good news for fans of Criminal Minds as it was picked up for a ninth season last week and the new CBS 2013-2014 schedule will be announced later today.
The unsub that the BAU are tracking tonight has been targeting married couples; kidnapping them and then forcing them to hurt each other. One issue that will make him hard to catch is that he has a rapidly changing MO. This is the last 'normal' case of the season as next week's two-hour season finale will return to the big Replicator arc of the year and a case that is personal for Hotch.
Blake is in focus this week and after almost a full season on the show we will find out more about her personal life as we finally meet her husband James. It has been previously mentioned that James works with Doctors Without Borders (or Médecins Sans Frontières) and this means he spends a lot of time overseas. Tonight he returns with a life-changing career proposition for Blake; could this be the end for Blake as part of the BAU team? Jeanne Tripplehorn has been a good addition to the Criminal Minds cast and I think this character fits well into this team; the highlight has been her friendship with Reid.
Deadline reported that the contract negotiations for the season 9 were a bit touch and go at times (Matthew Gray Gubler and Jeanne Tripplehorn weren't up for renewal) as both Kirsten Vangsness and A.J. Cook went into negotiations together to get the same salary as their male counterparts. They didn't quite get the figure they were after, but there was a pay increase (and I can totally understand why they wanted to get the same as their co-stars). Vangsness and Cook signed two-year deals along with Thomas Gibson, Joe Mantegna and Shemar Moore.
Watch a promo and a sneak peek for tonight's episode "#6" below.
http://youtu.be/ecFATY4j524
http://youtu.be/x1YErAfQeVI