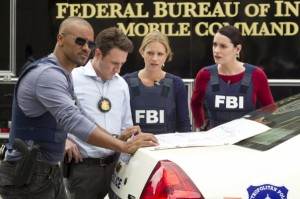 Tonight Criminal Minds is getting the bumper season finale treatment with a 2-hour instalment and it promises to be explosive. The team go up against a team of bank robbers who also happen to be partial to killing one person at each crime scene as well as stealing a lot of money. The latest crime occurs in Washington DC increasing the profile and things get even more high risk when one of the team becomes a hostage. The big events of the season 7 finale also include a wedding and the departure of Prentiss (Paget Brewster).
The bank robbers include Battlestar Galactica favourite Tricia Helfer as Izzy Rogers alongside Evan Jones (Brothers & Sisters, October Road) as Chris Stratton. The pair seem to be in charge of the bank robberies but is there someone else controlling and watching what they are doing? There appears to be a bigger target beyond robbing banks and killing hostages and the BAU team will have to contend with this as well as protecting the hostages and their own team member who has been taken. Expect an action packed and suspenseful finale that will include some impressive explosive sequences.
Returning to the fray tonight in time for this major operation is Erin Strauss (Jayne Atkinson) as she is back to work after a stint in rehab. Strauss has been a rather contentious character for the team but after her time away Strauss could be more friend than foe. Also returning tonight is Sebastian Roché as Interpol Agent Clyde Easter and this will very likely have an impact on Prentiss and possibly on her exit.
There will also be a wedding this evening and while it seems likely that it will be between JJ (AJ Cook) and Will (Josh Stewart), Thomas Gibson teased to TVFanatic that "There is a wedding, but there's also kind of a twist. When you get to half-way through the two-parter I think you would be hard pressed to know or guess who was going to be married at the end of the second hour." Could Garcia (Kirsten Vangsness) and Kevin (Nicholas Brendon) be the ones to get married, even after his disastrous proposal attempt earlier this season?
Gibson also discussed Brewster's departure and like the other cast members he too is sad to see her go and said "there will definitely be a hole. Paget has such a great character and she's a wonderful person, it's just hard to say we won't miss everything about her." Hopefully this won't be the last we will see of this character and they can find a way for Prentiss to appear next season.
This looks set to be a really great and tense finale for Criminal Minds with the stakes being so high. What are you hoping will happen? Who do you think will get married? Why will Prentiss leave? Let us know your thoughts in the comments below.