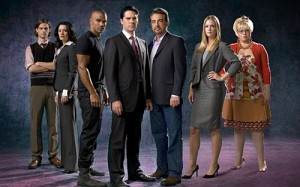 As I said earlier today, AJ Cook is being cut from Criminal Minds and Paget Brewster is having her role on the show reduced. While that is accurate, Deadline Hollywood's Nellie Andreeva has an update on the situation:
A source close to CBS stressed that the casting changes on Criminal Minds were a creative, not financial decision, and a way to "refresh a veteran drama series." A new regular female cast member will be brought in sometime next season to fill the void that will be left by Cook's departure.
Nellie also had this to say about Cook and Brewster:
I hear negotiations are underway with Brewster for a new deal that would keep her on the show. If she agrees, she will continue to be formally a regular but won't appear in every episode. Talks are also ongoing with Cook to possibly appear in several episodes next season to wrap her character Jennifer Jereau's storyline.
What actress would you like to see take on the role of the new BAU Special Agent?
The fans and actors on the show have reacted: a petition has been put up to keep both Cook and Brewster on the show. Joe Mantegna tweeted a link to it earlier today, and both Kirsten Vangsness and Thomas Gibson retweeted it.