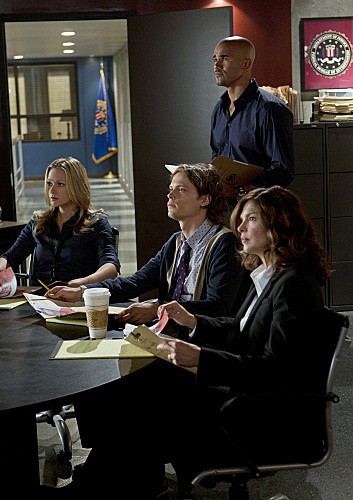 Criminal Minds returns tonight with a case that is closer to home. Season 8 has slowly been building a couple of plots; the unsub who is replicating old BAU cases and Reid's (Matthew Gray Gubler) mysterious girlfriend, who he still has not met in person. The latter story will move forward tonight, but there is danger ahead.
In last month's episode "The Lesson" it was revealed that Maeve (Beth Riesgraf) had a big stalker problem, but she finally felt confident that this stalker was no longer interested in her. The pair decided that they would finally meet, but when Reid was waiting for Maeve in the restaurant he panicked and thought there was someone watching.
It turns out that Reid's hunch was probably correct as Maeve is kidnapped by her stalker in tonight's episode. Reid turns to his co-workers and friends, who will use all of their resources to make sure that there is a happy outcome. In the team, Reid is usually one of the most rational; not tonight though as his fears will cloud his judgement skills.
This is obviously a big story for Reid as he has never really had a proper love interest and Beth Riesgraf who plays Maeve is confident that the audience will be fans of this connection, telling The Hollywood Reporter that "Viewers are going to be happy, I think, that Spencer has found true love. It's unlike any other TV relationship we've seen. When they do come face to face, their connection is undeniable and it's very apparent that they care about each other." Are you looking forward to Reid finally finding love? Or will it all end in tragedy?
Tonight's episode also features Michelle Trachtenberg, fresh off her stint on the final season of Gossip Girl and playing Diane, a genetics research assistant. What role will she be playing in the disappearance of Maeve?
Watch a promo below for tonight's episode "Zugzwang."
http://www.youtube.com/watch?v=9fWIvnedN4A&hl=en_US&version=3