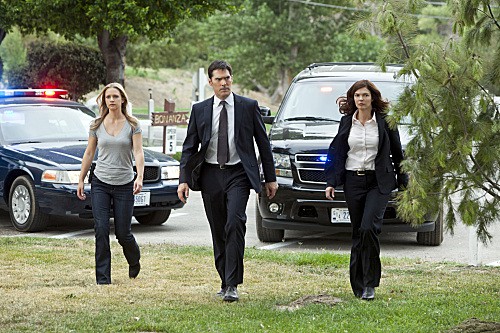 Criminal Minds returns to CBS for season 8 in a month and we've got photos from the premiere that feature a new member of the BAU team.
Last season's explosive two-part finale saw Paget Brewster's Emily Prentiss leave the BAU team (though she left under happier circumstances than her previous departure). After all the drama of hostage situations, bombs and near death experiences there was also a wedding as JJ (AJ Cook) married Will (Josh Stewart).
When we return in September, Emmy award nominee and former Big Love star Jeanne Tripplehorn will be joining the BAU team as Alex Blake. Alex is a linguistics expert and will be bringing a new perspective and area of expertise to the group.
In the premiere the team travel to Texas as a prisoner who escaped during a transfer leaves behind victims with the signature move of an unsub that the BAU has investigated previously. The unsub they are referring to has the nickname "The Silencer" (this is also the name of the episode) as he leaves his victims with their mouths sewn shut.
Will Alex Blake show that she has the skills to be a vital part of the team? Are you looking forward to meeting this new character? Let us know what you would like to see happen in season 8 of Criminal Minds in the comments.
Criminal Minds will return on Wednesday, September 26 at 9:00 p.m. ET/PT on CBS.