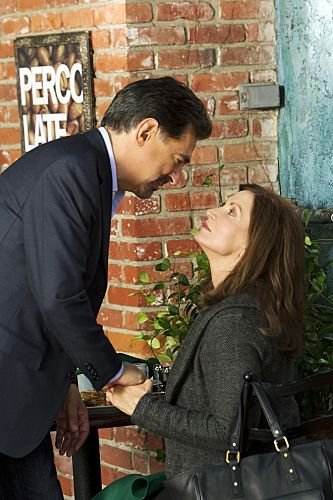 On Criminal Minds tonight the team have to find a child abductor in St Louis and Rossi (Joe Mantegna) has to deal with a personal crisis when his ex-wife turns up with some shocking news. Warning light spoilers ahead.
The children that are being taken appear to be coming from homes that that the abductor believes to be negligent; his motive is to give these children a better home. This theory of potentially unfit parenting is backed up in the sneak peek below; this shows that one child wasn't reported missing for 48 hours after the mother had dropped him off at his grandmother's house. She made the error of not checking that he had actually gone into the house and now the BAU team are at a severe disadvantage in finding the boy, due to the time that has lapsed.
There is a big personal story for Rossi tonight as his first ex-wife (he has had 3 marriages); Carolyn comes to her ex for help. Carolyn is played by Isabella Hofmann (JAG and Homicide: Life on the Street) and will be sticking around for a 2-episode arc. One person who is glad to see one of Rossi's ex-wives turn up is Joe Mantegna who has been campaigning for this for a long time. Mantegna teased to TV Guide what we can expect from this reunion:
"It's certainly very surprising. But it's realistic. I think the fans will be satisfied as I was with it. It's got everything. It's bittersweet. It's got the good, the bad, the ugly, the sad. … And I think we came up with a really good story for a way to introduce that aspect of his life, which may now make it that we never know who the other two are. It's that complex."
This definitely sounds very intriguing and it will be good to get to see more of Rossi's back-story. What do you think will be the big news that Carolyn will be revealing? There are still some residual feelings between Rossi and Carolyn, and back when this casting news was announced executive producer Erica Messer did say that Carolyn was "the love of his [Rossi's] life."
Some casting news was announced this week that may upset fans who were hoping for some romance between Hotch (Thomas Gibson) and Prentiss (Paget Brewster), as it is a love interest for Hotch. In a forthcoming episode Hotch will meet a museum curator (played by Dirty Sexy Money's Bellamy Young) while he is training for a triathlon in the park. As reported by Entertainment Weekly, Erica Messer said of Hotch and potential romance "We'd really like him to smile again." Unfortunately for some fans though he will be going outside of the work place for this connection. What are your thoughts on this casting news?
Watch the promo and sneak peak for "From Childhood's Hour" below.
Criminal Minds airs tonight at 9/8c on CBS.