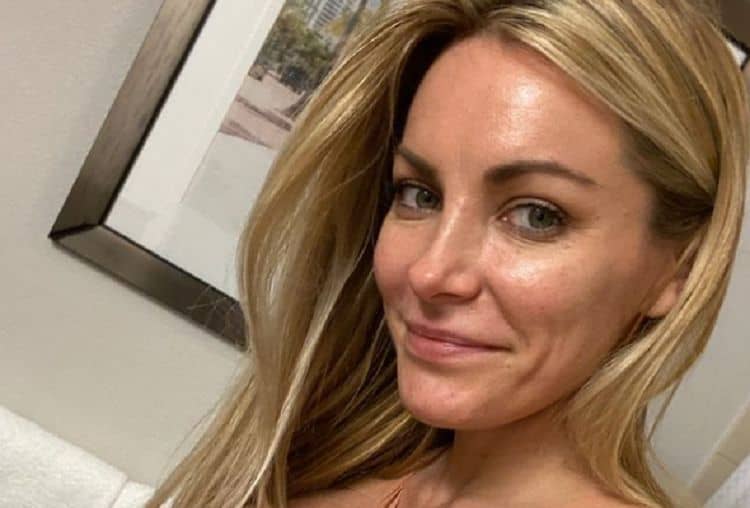 Even if you're not familiar with Crystal Hefner, you'll definitely recognize her famous last name. Despite being young enough to be Hugh Hefner's daughter, Crystal Hefner was actually his third and final wife. The two initially met when Crystal was a college student, and a love connection eventually formed. Although there was a huge age difference between them, it was never an issue for the couple. Although their relationship was relatively short, Crystal and Hugh shared a connection that most people can only hope to find. In the years since Hugh's death, Crystal has worked to keep his memory alive while also trying to find ways to carry on. Keep reading for 10 things you didn't know about Crystal Hefner.
1. She's An Arizona Native
Crystal was born and raised in Arizona and she got a taste of the entertainment industry at an early age thanks to her father who was a singer and songwriter. She eventually relocated to the San Diego area before ultimately relocating to Los Angeles to live at the Playboy Mansion.
2. She Studied Psychology
Some people may find it easy to look at Crystal and assume she doesn't have anything to offer other than her looks, but that isn't the case. Prior to meeting Hugh Hefner, she was a college student at San Diego State University where she as majoring in psychology.
3. She Almost Died During A Plastic Surgery Procedure
Countless people undergo cosmetic procedures every day and for the most part, they seem to be safe. With that being said, however, every surgery comes with risks and Crystal recently found herself in one of those risky situations. Crystal recently opened up about how she almost lost her life during a fat transfer procedure. According to CNN she said, "I lost half the blood in my body and ended up in the hospital needing a blood transfusion."
4. She Likes Spending Time Outdoors
Don't let Crystal's pretty face fool you into thinking she's the type of girl who's afraid to be around bugs or dirt. She actually loves being outdoors and spends a lot of time enjoying the beauty of nature. From hiking to boating, she enjoys being outside as much as she can.
5. She's Vice President Of The Hugh M. Hefner Foundation
Even though Hugh Hefner has been gone for almost four years, Crystal is still playing an important role in his legacy. During an interview with OK Magazine she shared that she is the VP of the Hugh M Hefner Foundation. According to the foundation's website: "The Hugh M. Hefner Foundation was established in 1964 to facilitate individual rights in our democratic society. The primary purpose of the foundation is to support organizations that advocate for and defend civil rights and civil liberties, with special emphasis on First Amendment rights and rational sex and drug policies."
6. She Has Some Acting Experience
Crystal is best-known for her association with Playboy, but she also tried her luck at having an acting career. She made her acting debut in a short film called Crystal Harris: Call the Cops in 2013. She has another acting role in 2015 in a TV mini series called Junior Development Execs.
7. She Loves To Travel
Seeing different parts of the world is one of Crystal's favorite things to do and traveling has become very therapeutic to her since Hugh's passing. She has traveled to more than 30 countries including England, Costa Rica, Sri Lanka, Dubai, Japan, and Tanzania.
8. She Has A Huge Social Media Following
Crystal Hefner may not be a household name, but that doesn't mean there aren't people all over the world who know who she is. She is a legitimate social media influencer who has over 3 million followers on Instagram. She has even gotten the chance to partner with several companies as brand ambassador.
9. Hugh Hefner Gave Her His Blessing To Start Dating Again
When Crystal and Hugh first got together, they both knew that they probably wouldn't have much time together. Crystal started dating again around 2020 and told OK Magazine that Hugh gave her his blessing to find love again. She said, "It was really important for me to have that talk with him. At first, I felt guilty, but now I'm like, "It's OK."
10. She's A Blogger
On top of having a large social media following, Crystal is also a blogger who runs a self-titled website. Most of her content centers around her travels although she also writes posts about beauty and other lifestyle related topics. Unfortunately, Crystal hasn't added any new posts to her blog since 2019.