CSI: Miami is back from its winter break with an all new episode. Episode 12 is entitled Show Stopper. A pop star bursts into flames during a performance and takes Horatio and the team into the not so nice side of pop stardom.
Pop star Phoenicks is on top of the world. Her performance has drawn a huge crowd. The crowd witnesses her life come to an end as she bursts into flames around them. Horatio and Dr. Loman are surrounded by paparazzi moments after Phoenicks is taken away in an ambulance. They soon figure out that Phoenicks' real name is Phoebe Nichols. The girl that is in the morgue is not Phoebe, it is another young woman Vanessa Patton who had taken over as Phoenicks.
Stetler made a rare appearance to ask Calleigh about the suspicious miles on her Hummer that were not accounted for. She told him that she must have lent Jesse the Hummer and then quickly backtracked her story. Calleigh has been known in the past to cover for boyfriend Eric or in some instances Ryan but something feels off about her covering for Jesse. She confronts him about the extra mileage and he quickly clams up about it. He later tells her that he has been following a woman whose life may be in danger. He tells her that the man who is living with the woman he is following killed another woman and his wife back in Los Angeles.
Back to the case, Calleigh and Jesse find Phoebe in a drug induced state. Calleigh asks Pheobe if she would like her to call her mother, she says no and Calleigh understands completely. They quickly rush her to the hospital where Pheobe is concerned that the hospital staff will reveal her location to the paparazzi. Calleigh assures her they have been asked to respect her privacy. The doctors examining her find a GPS chip in her arm. Calleigh asks her if she knows where the chip comes from and she does not.
Turns out there is a good reason as to why Phoebe does not want to talk to her mother. Her mother was the one who implanted the GPS locator in her arm. She claims she did it because she felt as if she was losing her baby to stardom. Truthfully, she wanted to get rid of the fake Phoenicks (Vanessa) and get Phoebe back into the limelight. Melanie Nichols (Phoebe's mother) hired an obsessed fan to kill Vanessa. She told him that he was doing it for Phoenicks, to get her back where she belonged.
At the end of the show we see Phoebe as herself performing in front a small audience. We see Calleigh sitting there listening to her sing, perhaps deep in thought. This episode was supposed to mirror Calleigh's life and career thus far. Maybe Calleigh is rethinking her position at CSI as well. One can never tell with the writers these days.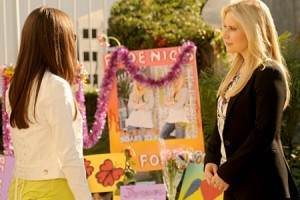 My biggest complaint of this episode is probably the same as most episodes this season. Too much Jesse, not enough of the supporting cast. Natalia was gone yet again from this episode. (Eva La Rue was most likely finishing up the 40th anniversary episode of All My Children, but that is pure speculation on my part). As thrilled as I was to see everybody's favorite bad guy Stetler, he usually shows up looking for a way to cause trouble for Horatio's team. This time around he was there for maybe a minute and walked away without any answers. Frank was all but absent and Horatio a back seat as well. Ryan and Walter showed up for some small comedic quirks but in the end, it seemed to be missing something.
What were your thoughts on last night's episode? Were you satisfied with Jesse's explanation to Calleigh about what he was doing or are you still thinking he is hiding something from Calleigh and the rest of the team?
All thoughts expressed in this article are those of the writer and do not reflect the thoughts and opinions of TVOvermind.