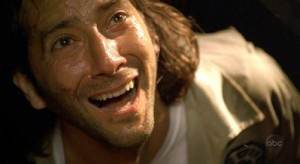 For many, Henry Ian Cusick is Desmond David Hume. The Scottish actor is most famous for his role as the tortured time-traveler Desmond on LOST, a role which has become one of the most iconic portrayals of sci-fi television in recent years. Cusick, who began playing Desmond in 2005, finally wrapped up the role earlier this year when LOST ended its six-year run in May.
Now, Cusick is ready to move on with his acting career — something that will be very hard to do considering his recognition for Desmond. Now, he's taking on a recurring role on the procedural drama Law & Order: SVU in an attempt to escape the Island… and Desmond.
"I was looking to get back into TV as quickly as possible," he told Digital Spy. "I wanted to get away from Desmond. It just seemed like I was no longer Ian Cusick, I was Desmond. So I wanted to just sort of shed that skin."
For his "cool" new role, Desmond Cusick portrays Erik Weber, a graphic designer who is "very quickly taken with Benson (Mariska Hargitay) and tries to help them on a case."
Cusick is not the first LOST actor to leap to another role on television so soon after the show's end. Daniel Dae Kim, who portrayed Jin Kwon on LOST, has taken up a starring role on CBS's new series Hawaii Five-O. Elizabeth Mitchell's series V will be beginning its second season in the fall. Others have not been so lucky; Dominic Monaghan's starring role on FlashForward ended when the series was cancelled in May. Matthew Fox has meanwhile made it clear that he does not intend to return to television at all.
Law & Order: SVU returns to NBC on September 22.