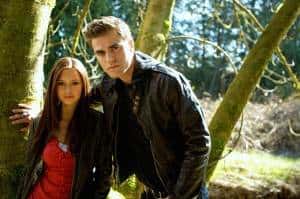 At the CBS Upfronts this week, the network announced plans for a new show called "The Vampire Diaries", which is based on the young adult series written by L.J. Smith. The series is centered around a high school girl named Elena, who pursues a mysterious stranger named Stefan Salvatore.
Naturally, there's more to Stefan than meets the eye and Elena discovers his secret: he's a 200 year old vampire. As Elena and Stefan begin a relationship, Stefan's brother, Damon, comes to town and begins to pursue Elena. Damon and Stefan clash over their past and Elena.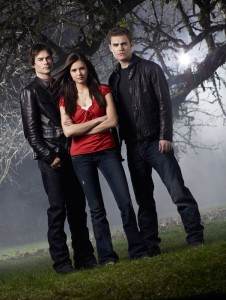 Ian Somerhalder ("Lost") plays Damon Salvatore who, unlike his brother, has no problem killing humans. Stefan Salvatore is played by Paul Wesley ("Smallville" and "The OC"). Nina Dobrev ("Degrassi: The Next Generation") plays Elena Gilbert, the 17 year old ingenue who captures Stefan's heart and draws Damon's obsession. Katerina Graham ("Hannah Montana"), Candice Accola ("Supernatural") and other young actors round out the cast playing Elena's high school classmates.
Kevin Williamson ("Scream" and "I Know What You Did last Summer") and Julie Plec will be producing and writing for the series.
The formula for this show is as follows: young girl falls in love with brooding, attractive, older vampire. Chaos and heartbreak ensues. Has this been done before? Absolutely (see Buffy, Angel, True Blood and a little something called "Twilight" for reference). You know why it's being repeated? Because it WORKS. Show me a girl – myself included – who doesn't fall in love with a tormented creature of the night. We just can't help ourselves.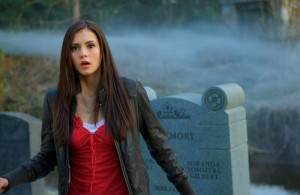 Also shown at the Upfronts were 3 sneak peaks for the show, which you can view below. The sneak peaks feature all three main characters and the final scene demonstrates the volatile relationship between the brothers. According to the books, "Katherine", who is mentioned in the final scene, is the woman who first pit the brothers against each other over 200 years ago and turned them into vampires.
The Vampire Diaries will begin airing in the fall of 2009 on Thursdays from 8:00 p.m. to 9:00 p.m. EST. Supernatural will air at 9:00 p.m.