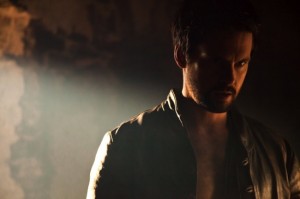 Leonardo's recklessness has been one of the main positives thus far in his life and career. His mind is not like that of his fellow inventors and artists; it's far more advanced and open to seeing things in a ways that have never been considered before, a trait that led him to working with Lorenzo Medici on Da Vinci's Demons. The Florentine statesman needed a different perspective if he was to properly equip the city with weaponry, a conflict with Rome looming, and Leonardo provided him with exciting plans of machinery that no other place in Italy would have conceived of. But is the great thinker reconsidering his role in perpetuating violence in the name of politics?
On the next episode of Da Vinci's Demons, Leonardo is taken aback by the violence of war, something he never considered when he agreed to work with Lorenzo.The fact that there will always need to be a bigger cannon, always need to be a more advanced piece of weaponry to continue the bloodshed that has happened for centuries causes him to try and stop the progress of his own gun-making. What results is a pretty substantial explosion and a brutal tongue-lashing from Lorenzo, who won't take too kindly to someone trying to weaken the progress made in arming Florence against Rome. Now that Leonardo has shown what he could do for the powerful Medici family, will he ever be let go from their arrangement? Or is he powerless against the wishes of Lorenzo and the Florentine elite?
Elsewhere on Da Vinci's Demons, Bechhi is formally accused of spying for Rome and subsequently arrested, while Rome and Florence square off and someone's charged with sodomy.
Da Vinci's Demons airs Fridays at 9:00 on Starz. You can check out a recap of the most recent episode here.
Should Leonardo get out of his arrangement with Lorenzo? If Lucrezia hears about what her lover did, will she do everything she can to make him stay? How long will it be before Lorenzo finds out that Bechhi isn't the spy that has been feeding Rome information?