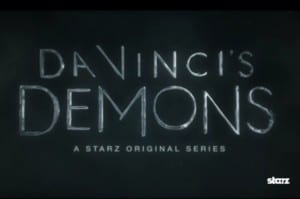 Da Vinci's Demons might not be premiering until next year, but the show made an appearance at New York Comic Con recently to hype up the impending debut.
Joining creator David S. Goyer (The Dark Knight) on the panel were series stars Tom Riley (I Want Candy), Lara Pulver (True Blood), and Laura Haddock (The Inbetweeners Movie), with the cast members answering questions about what drew them to the role and teasing the characters they'll be playing (da Vinci, Clarice Orsini, and Lucrezia Donati, respectively), among other topics in the nearly 40 minute session. In addition, the premise for the show gets explained in a bit more detail than what has previously been available, illuminating a project that had until now been shrouded in mystery.
Da Vinci's Demons will be attempting to fill in a five-year gap in the great inventor's journal writing. For much of his life, Leonardo da Vinci had documented his inner thoughts, experiences, designs, and the political and social climate that he had to deal with and that influenced his work. However, those years, which began around the time he turned 25, are much more sparse in terms of information available; as a result, Da Vinci's Demons will try to show the artist, inventor, swordsman, lover, dreamer and idealist "creating" the future in a way that didn't make it to paper records.
In addition to Pulver, Haddock, and Riley, Da Vinci's Demons stars Allan Corduner (Gladiator) as Leonardo's mentor Verrochio and Eros Vlahos (Nanny McPhee Returns) as author and founder of modern political science Nico Machiavelli.
Da Vinci's Demons premieres next spring on Starz. David S. Goyer recently launched a production blog for Da Vinci's Demons, which includes talk about the Comic Con experience and photos taken before and after the panel.
Will you be watching Da Vinci's Demons next year? How do you think the show will compare to other historical dramas currently on the air? Did the panel make you more excited for the show to premiere?
http://www.youtube.com/watch?v=UPQ58CM241A