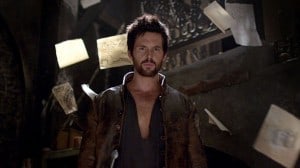 Leonardo da Vinci is one of the most revolutionary minds the world has ever known. He was a leading engineer, artist, thinker, inventor, and idealist, a man who paved the way during a period of progress, thought, and evolution. Naturally, anyone showing that kind of ability will be courted by all sides in an attempt to bolster their cause and give a perspective that might not have been considered before, so in the latest trailer for Da Vinci's Demons, young Leonardo will have to make a choice of allegiance.
The trailer for the upcoming drama, premiering in the spring, finds Leonardo battling questions of fate and coming to terms with the role he'll be playing in the political unrest in the country. His loyalty looks to lie with the Pope and as such, His Holiness will be receiving the tangible products of Leonardo's genius in weaponry for the battlefield. But if the Medici family, currently in power and looked at with scorn by a majority of the population, get wind of the fact that Leonardo won't be coming to their side, might they try to take him out and considerably weaken the other side?
In addition to Riley, Da Vinci's Demons stars Laura Haddock as Leonardo's lover (and mistress of Lorenzo Medici) Lucrezia Donati, Lara Pulver as Medici's politically minded wife Clarice Orsini, and Allan Corduner as Leonardo's mentor Verrochio.
The series premiere of Da Vinci's Demons airs Friday, April 12th at 10:00 on Starz, following the series finale of Spartacus. The following week, the show will move into the 9:00 time slot for the rest of its eight-episode first season. You can check out the show's New York Comic Con panel here, as well as an additional trailer here.
What do you think about the latest trailer for Da Vinci's Demons? Does it give you a better understanding of (and give you more incentive to watch) the show? What kind of tone would you like to see the show adapt going forward?