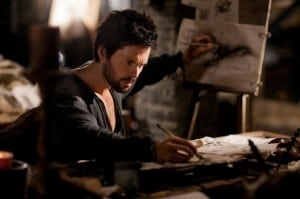 Da Vinci's Demons may not be premiering until early 2013, but the first trailer for the historical fantasy has officially been released by Starz and it fills in what gaps in what might have been a tough premise to comprehend.
In Da Vinci's Demons, the "untold story" of famed artist, thinker, inventor, and revolutionary Leonardo da Vinci will be told. It will begin with a 25-year-old da Vinci and try to fill in the gaps that were left in his notorious journal keeping; much of his thoughts, plans, and observations were recorded in a series of journals. However, there was a noticeable lag of about 5 years when not that much is known about what da Vinci did or the changes going on in Italian society. Da Vinci's Demons will attempt to use what we know about where da Vinci ended up in order to color the rest of the series, the next original to premiere on fledgling pay-cable network Starz.
Da Vinci's Demons stars Tom Riley (I Want Candy) as young da Vinci, Lara Pulver (True Blood) as politically-minded seductress Clarice Orsini, and Laura Haddock (The Inbetweeners Movie) as Lucrezia Donati, lover of da Vinci and mistress of Lorenzo Medici. In addition, the show will feature the likes of Allan Corduner (Gladiator) as Leonardo's mentor Verrocchio, Gregg Chillin (A Good Year) as founder of Zoroastrianism Zoroaster, and Elliot Cowan (Happy-Go-Lucky) as Italian statesman Lorenzo Medici.
Da Vinci's Demons will debut spring 2013 on Starz. You can check out the Da Vinci's Demons New York Comic Con panel here, as well as an additional teaser for the show here and creator David S. Goyer's production blog here.
What do you think about the new trailer for Da Vinci's Demons? Did it make you more excited for the show to premiere next year? Will you be watching the show when it does make its debut?
http://www.youtube.com/watch?v=430nr95KQz4