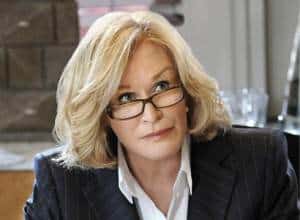 After four seasons of murder, backstabbing, and legal wrangling, the final season of Damages comes down to one final battle for the ages: Ellen Parsons vs. Patty Hewes. The two had a major falling out at the end of the fourth season that crumbled any bridges the two had built, so there's no love lost between the veteran lawyer and her former pupil. But does the trailer for the fifth season of Damages offer any clues as to who comes out on top?
Yes and no. Probably the most striking image from the brief :30 clip is Ellen, disheveled, bloody, and blank-faced on the ground after (presumably) falling off the side of a building. But this is Damages, a show notorious for its misdirects and head fakes, so I'm doubting that it's as straightforward as it might look. The trailer, as expected, is like someone dumped out a jigsaw puzzle on the coffee table; everything that you're looking at might not make sense as is, but given a little time and critical thinking, it'll all start to come together nicely. You do, however, get your first glimpse at season five guest stars Ryan Phillippe and Jenna Elfman, with the former as a computer expert and government whistleblower and the latter as an investment bank employee on the verge of doing a little truth telling herself.
In addition to Elfman and Phillippe, the fifth season of Damages will feature Janet McTeer as a former colleague of Patty's used in Ellen's case, Rutger Simon as the chief lieutenant of the website that Phillippe's character runs, and M. Emmet Walsh as Patty's father.
The final season of Damages begins Wednesday, July 11th at 9:00 on DirecTV.
Are you looking forward to the final season of Damages? Who do you think will ultimately triumph over the other: Ellen or Patty? Is Ellen really dead or will there be one final twist that nobody sees coming?