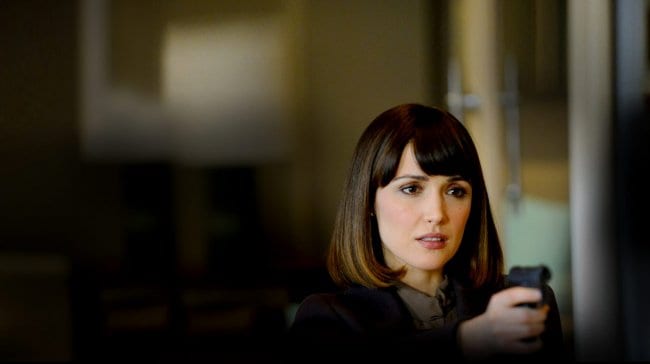 Never trust anything said or done on Damages. If you assume that someone's being fully upfront about their motives or telling the absolute truth, be prepared to be smacked in the face by the cold, harsh reality of the world of Patty Hewes. It can make for a sometimes frustrating viewing experience, trying to decipher all the double-talk and keep track of who's making a move against who, but when it works, it's extremely thrilling and quite often brilliant. Now that we're heading into the series finale of the legal drama, it's time to find out who will come out on top once and for all – Patty or Ellen.
Deciphering it from the latest promo for the episode, titled "But You Don't Do That Anymore", won't be possible, though. For as deceptive and murky as the show can be, its preview material tends to exemplify those concepts even more – in the promo, we see Patty's father pointing a shotgun at her, Ellen walking into her office and gasping, and the McLaren case about to get its day in court. We see Ellen throwing a bit of a temper tantrum and knocking items off a desk, Patty trying to wring every bit of information about Channing from Rutger, and Chris angrily confronting Ellen about the amount of time and effort that she's invested in the case.
But remember, when it comes to anything you see relating to Damages, what you see isn't always what you get.
The series finale of Damages airs Wednesday at 9:00 on The Audience Network. DirecTV customers can catch up on the previous three episodes of the show here, while an official recap for the most recent episode, "I Like Your Chair", can be found here.
How do you expect Damages to sign off after five seasons? In the flashforwards, is Ellen actually dead or is there something else going on? Who will ultimately come out in top in the McLaren case – Patty or Ellen?