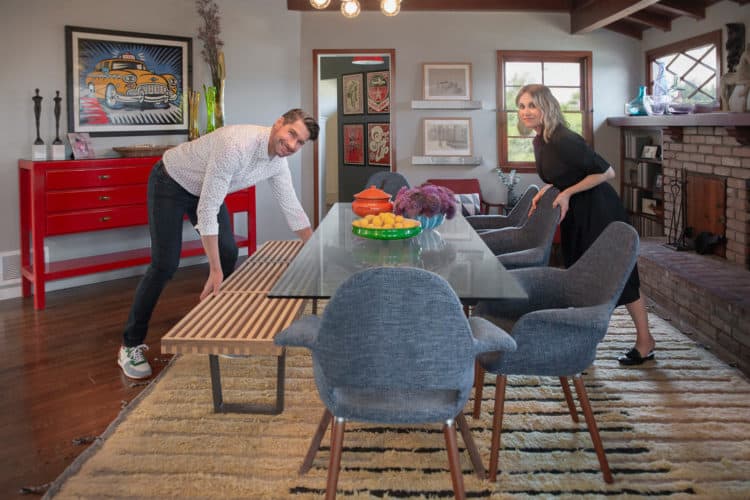 When it comes to home design, Dan Vickery knows exactly what he's doing. He has been working in the industry for more than a decade and he has done a lot during that time. His ability to look at a not so fabulous space and see its potential is truly unmatched. Now, he's getting the chance to share his talents to help people whose homes need a modern touch. As the co-host of the new HGTV series Frozen in Time, Dan is tasked with working with homeowners whose houses are stuck in the past. Dan doesn't just breathe new life into their spaces though, he also makes sure the original character remains intact. Keep reading to learn 10 things you didn't know about Dan Vickery.
1. He Is From Oregon
Dan was born and raised in a small town in Oregon and he is very proud of his roots. It was there where he fell in love with drawing which turned out to be the perfect foundation for what would end up being his career in home design and residential building.
2. Frozen In Time Isn't His First TV Show
If Dan's face looks familiar to you, it's probably because you've seen him somewhere before. He has actually worked with HGTV before on several occasions. Most notably, he was a host on Love It or List It Vacation Homes back in 2016. He was also on HGTV Design Star in 2009.
3. He Studied Architecture
By the time Dan was in high school, his love for drawing had turned into a love for architecture. Dan attended the University of Oregon where he earned a bachelor's degree in architecture. Immediately after school, he got a job working for a home building company.
4. He Loves A Good Cocktail
There are lots of people who like to let loose and have a good drink after a long day, and Dan is no exception. He enjoys a nice strong cocktail and he especially loves making them. On occasion, he likes to share recipes for some of his favorite drinks with his followers on social media.
5. He Is An Outdoors Kind Of Guy
Dan spends a lot of time at work, so when he gets time off you can bet that he's going to enjoy it to the fullest. In his spare time, you can usually catch him out appreciating the beauty of nature. He loves doing things like hiking, swimming, mountain biking, and skiing.
6. He Loves Fashion
Home design may be what Dan is best known for, but that isn't the only way he loves to put his creativity to use. When it comes to fashion, Dan has a great sense of style and he loves putting outfits together. No matter what the occasion is, you can bet that Dan is going to show up looking sharp.
7. He Is Married
As Dan's star continues to rise, so does the number of people who want to slide in his DMs. Sadly for those people, however, Dan isn't interested. He is happily married and his husband's name is also Dan. It's unclear exactly how long they've been together, but what is clear is that they're still going strong.
8. He Likes To Travel
Most creative people would agree that traveling is one of the greatest sources of inspiration. There's something about the experience of being somewhere new that really gets the creative juices flowing. Dan loves to travel and has been fortunate to do a lot of it over the years. In addition to traveling across the United States, he has also been to several other countries.
9. He Is Fairly Private
Dan may be in the public eye, but that doesn't mean that he wants to share all of his business with the world. For the most part, he is a private person and he's careful about what he shares with the world. We've all seen what can happen when people in the spotlight overshare, so it's easy to see why he's decided to keep a lot of things to himself.
10. He Loves Hands-On Projects
Once some people reach a certain point in their careers, they don't like to do the 'dirty' work anymore. That isn't the case for Dan, however. He loves to do all of the hands-on stuff in his projects. During an interview with Room Fu, Dan said, "I'm definitely a hands-on guy. I love building custom things for people with my own two hands instead of creating some drawings and handing them off to somebody else—that's definitely a passion of mine."