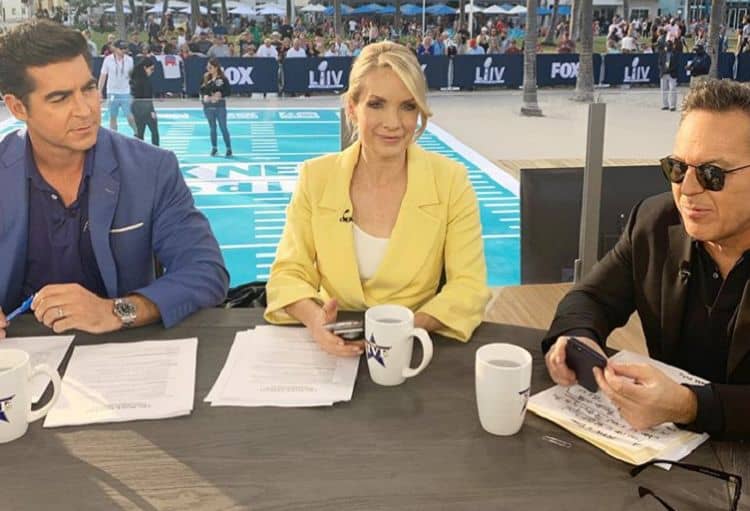 Imagine being handpicked by two different presidents to be in their government. Well, Dana Perino is one woman who knows what it is to rub shoulders with George W. Bush since she was the press secretary during his time in office. When Barack Obama was president, he also nominated her to the Broadcasting Board of Governors, a position for which she was confirmed in 2010. Now she is a familiar face in Fox News, so here are more details about her way to the top.
1. Her father cultivated in her the interest in news
The Holy Bible says that you should train a child in the path they should follow, and once he is old, he will not depart from it. Being Christians, Perino's family followed the teachings to the letter. Dana's father noticed that his daughters were interested in the news, so when Dana was in grade three, her father began a tradition that further made Dana love news. He would have her read to him the Denver Post and The Rocky Mountain News every night after he got home from work. Later on, before they ate dinner, Dana was supposed to discuss two articles with him.
2. She had to turn down an offer to work for George Bush
After getting married, Dana was offered the opportunity to be a volunteer spokesperson for the Bush campaign in California. Unfortunately, at the time, Dana had lots of financial obligations; hence volunteering was out of the question. She felt terrible about having to turn down the offer, so immediately after hanging up the phone, Dana cried, not knowing that she would get another chance to showcase her talents.
3. How she developed a positive attitude
Dana was raised in a ranch in Evanston, Wyoming, but the family moved to Colorado when she was still a young girl. However, by then, Dana had become accustomed to the ranch life, so every summer, she would go to the ranch. Spending time on the farm instilled in her a sense of optimism because like she told Fox News ranchers always have to be hopeful that crops and cattle will survive bad weather. That calm demeanor and positivity helped her weather the storms in her profession.
4. She stopped worrying about life at 40
They say life begins at 40, and in some way, Dana was not living her fullest before she got to her forties. She confessed to God Reports that she subscribes to Pastor Rick Warrens daily devotional, and it is one verse that had a life-changing impact. She listened to the pastor talk about Matthew 6: 25, which tells Christians to stop worrying about material things. She realized she was carrying too much baggage, thus stopped fretting about what the future had in store for her.
5. Her favorite Bible verse
It is no secret that Dana loves God and has done so since she was a child. Her parents raised her in the Lutheran church, and while her sister loved sleeping so much that she preferred the late service, Dana liked to attend the early service. Ever since she learned Philippians 4:13 that tells Christians they can do all things through Christ who gives them strength, Dana knows she can handle any difficulty that comes her way. Therefore since she was 23, whenever Dana is pushed to the limit, she recites the verse.
6. She wants to help young women advance in their careers
Dana kept being approached by young women who wanted to get some advice about how to advance in their careers. She saw it as an opportunity to help young women all over the world by establishing an organization, Minute Mentoring, in 2009. She invites other women in leadership positions to share their stories and mentor young women to be as successful as they are. Each mentor gets three mentees who are given three tips in about ten minutes before moving on to the next mentor.
7. How she met her husband
Dana and Peter McMahon were immediately attracted to each other as they boarded a plane bound for Chicago. Peter prayed that she would sit next to him while Dana observed that he was not wearing a wedding ring and had a British accent. After spending two and a half hours talking, Dana gave him her phone number and business card that contained all her contact details, including an email address. Peter opted to communicate via email, where he expressed his feelings, but Dana responded after ten days. She had been expecting him to call, so in the entire ten days, she barely ate or slept. They finally met again in New Orleans after countless international calls, and in less than a year, Peter proposed, according to Yahoo! Lifestyle.
8. Her net worth
Dana's net worth is estimated to be $6 million thanks to her prominent positions that come with a lucrative salary. Allegedly as the former press secretary, she took home a salary of $172,000 annually, and as for her job in Fox News, she pockets $250,000 per year. Besides, she is the author of bestselling books whose sales have increased her earnings.
9. Her philanthropic efforts
Volunteering for noble causes is part of Dana's mission in making a difference, therefore during her time in the White House, she accompanied former President George W. Bush to Africa. It must have opened her up to the plight of those living in the continent because, since then, she frequents Africa in collaboration with Mercy Ships. According to Dose of Leadership, Dana spent some time in South Africa volunteering in an HIV/AIDs treatment center. Besides on her Twitter page, she asked people to donate to companions4heroes, a charitable organization that matches pets with veterans who have PTSD.
10. The hardest and most important job she will ever have
If ever there was a job that Dana considers the most challenging yet most important in her career, it has to be being the press secretary during George W Bush's administration. The former president imparted so much in Dana that even now, as she works, she wonders if George would approve of whatever she is doing. With such admiration for the former president, Dana felt that her last day on the job in the White House marked an ending to a career like no other.