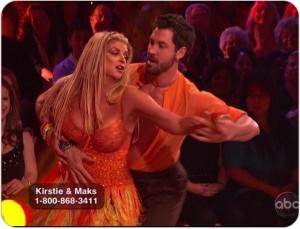 'And then there were three: the Disney princess, television icon and hero of the grid iron'as stated by host Tom Bergeron to kick off the much anticipated Dancing with the Stars: The Finals. The show held no surprises and no drama to counter what we all knew would happen: Hines Ward and Chelsea Kane received the top scores. Hines will most likely take the trophy and Chelsea and Kirstie Alley will battle for 2nd place.
Once again it seemed as if the judges got their barking orders from above, propelling Hines and Chelsea into a top scoring tie and sinking Kirstie Alley 5 points below each of them. Not to say that Hines and Chelsea didn't deserve good scores, but Kirstie deserved better than what they gave her. All contestants received a sliver of criticism, but Hines and Chelsea still received several 10s while Kirstie received none. Come on! Kirstie actually did a cartwheel for pete's sake! They know Hines will win but are trying to level the field between Chelsea and Kirstie. Chelsea, a Disney darling but a relative unknown coming in to the competition, does not have the fan base of Kirstie (or Ralph), and that was the whole reason for last week's 15 point winner take all cha cha. Here's how the performances on Dancing with the Stars The Finals played out:
Round 1 Judges'Choice
Chelsea & Mark's samba: Carrie Ann came to rehearsal to help Chelsea bring a more sensual vibe to her samba. Sorry but I thought she struggled a little bit to keep up with Mark in some spots. It certainly wasn't Mark's best samba. His Season 11 samba with Bristol Palin was sexier. The judges loved it but Len did say he wasn't keen on the flowing arms. Score: 29
Hines & Kym's quickstep: Len worked with Hines to improve his footwork, but in the end thought he still wasn't quite there yet. Carrie Ann and Bruno loved it. It was entertaining but I thought I saw some mis-steps. Score: 29
Kirstie & Maks'samba: Bruno helped Kirstie with arm extension and reminded her to take her moment when she danced. Their samba was more traditional than Mark's of course but I thought it was more fluid and rhythmic. While Carrie Ann and Len gave her a great critique, they didn't pull out the 10s. Bruno accused her of still looking at the floor. This time Maks showed his affection for Tom by nuzzling his cheek. I wonder what he has planned for Tom in the Finale? Score: 27
Round 2 Freestyle
Chelsea & Mark: Fans were expecting big things from Mark, who typically has exciting freestyles (though Lacey Schwimmer out did him in Season 11). And sorry again, but I thought it was out of sync the first few seconds and you could see her fear with the lifts, not that I blame her much for that. Their freestyle also lacked Mark's usual creativity. The light up gloves and shoes were not enough, especially since Chelsea's batteries crapped out on her. Mark did use a lot of lifts though, and that's what the judges love. Score: 30
Hines & Kym: Never having had the chance to enjoy a super bowl half time show, Hines brought one into his freestyle. The judges thought it was a rousing crowd pleaser and it was. Their lifts were awesome and overall as Carrie Ann said, risky, but it worked. Score: 30
Kirstie & Maks: Last week Kirstie wanted to do aerials before she even knew what that meant. And she did! Maks not only took her effortlessly through some lifts, she even did a cartwheel. She's 60! Bruno gave her lots of 'respect' and Len and Carrie Ann commended her. BUT, still no 10s. This woman took some big risks for her age and showed she could bring it, yet they robbed her. Score: 27
Leaderboard Results
Hines & Kim 59 – predicted winner
Chelsea & Mark 59
Kirstie Alley 54
Even if Kirstie receives enough votes to close the gap between her and the top 2, and I think she will, the judges can still sink her. They have one more dance to score that could re-widen the gap, leaving Kirstie in 3rd place. It depends on how badly the show wants Chelsea in 2nd place. Was it enough that they reserved her a spot in the finals with the WTA cha cha, or do they need her to go as far as she can?
The 2 hour Finale extravaganza will feature the winning "Design a Dance" and the return of all the Season 12 stars and pros plus a surprise guest. Musical guests will be the Go Go's, Black Eyed Peas, and Sara Evans. Oh, and yes, one more dance by the final three and then the Season 12 Mirror Ball winner will be crowned! Dancing with the Stars Season Finale begins at 8 p.m. (EST) on ABC.