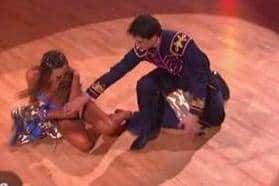 'Guilty Pleasures'night on Dancing with the Stars was a night of triumph and tragedy, as we watched Hines get knocked off the top of the leaderboard, we witnessed the season's first 10, and oops, another fall. Season 12 is fast becoming the season of mishaps, and the latest involved Ralph & Karina. More on that later including video, for now let's check out the contestants'guilty pleasure songs and their rankings by scores:
Romeo & Chelsie 28: waltzed to 'My Heart Will Go On'Carrie Ann called it magical and marveled at Rome's emotional connection to the dance, she gave them the first 10 of the season. Len says Romeo shows great maturity in his waltz for a young man. Bruno said Romeo DiCaprio's ship will sail on and on. Did you catch the kiss Romeo planted on Chelsie? Rome got the first 10 of the season. Definitely Safe
Chelsea & Mark 28: quick stepped to 'Walking on Sunshine'Len was happy to see them fuse high energy with control. Bruno got a suntan from such a luminous performance and Carrie Ann said sometimes magic happens twice in a night, giving them the second10 of the season. Kudos to Mark for dancing on an injured ankle. Definitely Safe
Hines & Kim 27: Viennese waltzed to 'The End of the Road'. No longer in the lead, but Len deemed Hines the Most Valuable Partner. Bruno drooled at their flawless chemistry, calling them 2 birds in love chasing each other, and Carrie Ann thinks Hines was thinking too much. Definitely Safe
Kirstie & Maks 26: samba'd to 'Hit Me Baby One More Time'Len was pleased that Kirstie fulfilled the potential she showed in week 1. Bruno shouted 'hit me Kirstie one more time', claiming her wiggly bum sent shockwaves thru the airwave. Carrie Ann wants to see Kirstie in the finals. With only a 2 point spread between them and the bottom, and a fan base not given to rabid text voting (which saved Kendra last week) I'm going to have to declare Kirstie & Maks In Jeopardy. And yes I hope I'm wrong.
Kendra & Louis 25: samba'd to 'Living La Vida Loca' Kendra finally found her niche on the dance floor or should I say the judges table, where she shimmied and shook so well she gave Carrie Ann 'too much information.'Len admitted to palpitating, calling her dance his guilty pleasure, Bruno demanded (but didn't get) a lap dance. Even though Kendra is still near the bottom of the leaderboard, I am going to go ahead and declare her Definitely Safe, because she's been in the bottom before, is still here and she's better than she was all season. And yes, I hope I'm wrong.
Ralph & Karina 24: paso doble'd to 'Everybody Dance Now'. Okay here's how it went down: the dance started off full of energy and excitement, then about midway through, Karina tripped on Ralph's matador coat and took a hard spill to the floor. Ralph pulled her up quickly and Karina was discombobulated, but he got them back into the groove. The dance finished perfectly, but it was obvious Karina was shaken and fighting back tears afterwards. While the judges had to make mention of the mishap, they all agreed it was a fabulous performance. Check out the video below. Ralph was applauded for recovering the dance and received 8s across the board. In Jeopardy by score, but will the voters save him for having saved Karina?
Chris & Cheryl 22: tango'd to 'Don't Stop Believing'This was a total song/dance mismatch, and Chris couldn't make it work. Mixed reviews from the judges, Bruno called it 'granite'and noted Chris lost timing at times and overall though Chris was having an 'off'night, while Carrie Ann said she thought the pressure got to him and it wasn't a fun or exciting dance. Len accused Bruno of having an off night; and he noted Chris'good footwork and posture and thought it was good overall. In Jeopardy
Don't forget the Tuesday night "block" of DWTS on ABC. At 8 p.m. is The Road to the Finals, followed by the Results Show at 9 p.m. Read a preview of the shows here. The three couples "in jeopardy" on the Results Show will not necessarily represent the bottom three. Kirstie explains it best in a tweet this week:
@kirstiealley: Ppl have been asking..DWTS is not like IDOL. 3 couples at risk, 1 is the lowest votes, the other 2 can be even the highest
Here's a recap of the Week 6 dances: