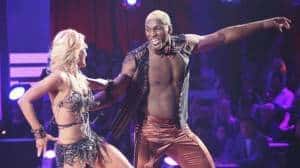 The Dancing with the Stars fan bases of Season 13 are mobilizing and the votes are in! In week 1, Rob Kardashian, Ron Artest and Nancy Grace found themselves in jeopardy with Ron (who tonight went by his new name Metta) and his partner, new pro Peta Murgatroyd eliminated from the competition. Curiously absent were host Tom Beregon's constant reminders that the three in jeopardy do not necessarily represent the bottom three by the combination of votes and scores. So we don't really know for sure if Rob and Nancy were red herrings or were really in the bottom. The only one we can be certain of was the eliminated couple.
Despite the controversy and some hateful public backlash as a transgender DWTS contestant, Chaz Bono was declared safe. This victory is even sweeter when you know how many people were rooting against you. Good for Chaz, he gave good performance and deserved to stay in. The message seems fair and clear, focus on the performance and not the celebrity's personal life choices. Carson Kressley lives another week to entertain us, that was the second best news of the night. Rob, David Arquette and Elisabetta Canalis have to really step it up next week to get into the judges's good graces.
Do you agree with the elimination? Leave your comments below. On to week 2 of Dancing with the Stars. Catch the next 2 hour performance show on Monday, September 26 at 8 p.m. ET on ABC.