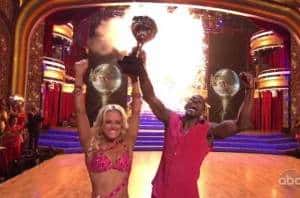 In a stunning blaze of glory, Green Bay Packer Donald Driver scored a dancing touchdown as he danced off with the Dancing with the Stars Season 14 Mirrorball Trophy. See the big moment in the video below. In second place was Katherine Jenkins followed by William Levy in third place. This is truly a glorious win, because out of all the contenders this season, it was Donald who showed the most growth and the most determination to win that trophy. Many football players have appeared on the show and won, but what makes this win so special is that Donald is truly a fan of the show and it was his dream to compete. (And not many football players would admit to this either!) His Monday night freestyle, one of the best ever, helped secure his win as did the football nation rooted firmly behind him.
Bravo also to partner Peta Murgatroyd, an amazing pro dancer and choreographer. She gave Donald the best possible coaching to show off his skills and growth week over week. Fans will recall that Peta was voted off first in Season 13, so it makes this win especially awesome for her. She wins the trophy in only her second season of Dancing with the Stars, proving that she is a dancing force to be reckoned with here on in.
For the finale's '24 Hour Challenge'dances, (videos below) which ultimately had zero impact on the outcome, the Dancing with the Stars press release lead us to believe that the contestants would get their music and assigned dance the night before. It turns out that the couples chose their own dances. All the couples received a perfect score of 30, whether or not they deserved it. Case in point was William, whose chosen salsa was reminiscent of his Week 3 salsa, including when Cheryl's head got caught in his thunder thigh. Not as bad as the first time and the judges overlooked it. Carrie summed up his journey by telling us what we already know, that he has true star quality. Katherine chose the jive because it makes her happy. She performed beautifully, and Carrie Ann thanked her for setting the bar so high this season. Donald performed an awesome cha cha, sexy and spot on. Len said he was the best footballer that competed on the show. Bruno noted how he has improved week after week and peaked at the right time.
A highlight of the finale was eliminated contestant Roshon Fegan's freestyle. He wanted so much to perform a freestyle as part of the competition, an honor he was robbed of not having made the final three. He showed us what he could have done to win that trophy, and he killed it. Other highlights included a musical performance by another eliminated contestant, Gladys Knight, who performed 'The Way We Were'and didn't leave a dry eye in the house. Kelly Clarkson also performed, accompanied by pro dancers Anna Trebunskaya, Tristan MacManus, Tony Dovolani and Kym Johnson.
Jaleel White returned to perform a routine set to Shaft, but he blew it. He couldn't follow through with a lift and the camera panned above him so we couldn't see the full on mishap. Melissa Gilbert returned for another Chmerkovskiy sandwich, and Sherri Shepherd returned to dance to 'It's Raining Men'accompanied by 6 hot pro and Troupe dancers.
Well that's a wrap for Season 14 of Dancing with the Stars! For complete coverage of the season, click here. On to rumors for Season 15's All Star reunion cast! We'll report the latest Dancing with the Stars cast rumors all summer.