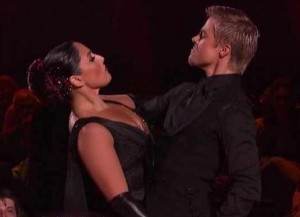 It sure was a night at the movies on Dancing with the Stars, namely a horror movie. Cringeworthy missteps and bizarre judging became the theme of the night. Ricki Lake not only tops the leaderboard again this week, she's just one point short of perfect score. The leaderboard has a new bottom dweller, the loveable Carson Kressley. Relive the dances in the video clip below, and read on to find out how all this happened.
David's paso doble to the Indian Jones theme was a huge improvement over any dance he's had thus far. Carrie Ann said he showed a new strength and charisma. Len liked his entry and attitude but thought the lot of it was like the 'temple of doom.'Chynna's tango to Mission Impossible turned out to be just that. Many awkward stops and starts throughout made tonight a mission impossible for her and partner Tony Dovolani. Carrie Ann tried to console by telling her she lost her place but not her composure. It was a sad turn of events for this promising contestant. Carson Kressley's Pirates of the Caribbean Viennese Waltz, complete with swords, failed to impress the judges, but was entertaining to watch. The sword props didn't quite land where they were supposed to, and they had to dance around them. Carrie Ann said it was his most '˜butch'performance yet. Len panned it, but Bruno called it the '˜revenge of the gay blade.'Even with some praise, Carson finds himself in last place.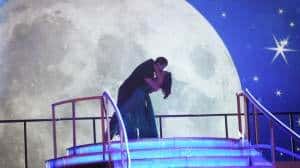 Nancy Grace's paso doble to Flash Gordon was spot on and full of aggression as it should be, so what the judges did to her was an outrage. Their ridiculous comments don't warrant repeat. Just know she was sorely underrated. Her perfect dance was given the same score as Chynna, who LOST it several times in her tango. Hope Solo fox trotted to Toy Story. Not bad, but not overly exciting. The judges thought it was refreshing. Except for Len, who told her she needs to practice and polish harder. For once I agree with him. Robert Kardashian's paso to Superman was full of Superman flavor said Carrie Ann. Len compared his walk to that of a waiter, while Bruno encouraged him to believe in himself. Another good dance underrated, but curiously, not underscored. For all their complaining, they gave him three 8s.
Ricki's tango to Psycho had an appropriate ending where Derek stabs her. As usual Derek can do no wrong. They received the first 10s of the season. Chaz's 'courageous'paso to Rocky made Carrie Ann cry, and Len thought it was his best dance to date. Dare they criticize him with mom Cher in the audience? Yet for all the praise, he was miserably underscored. JR Martinez and his fox trot to Pink Panther — well you knew he couldn't go wrong. Even though Carrie Ann thought the humor detracted from it, Len and Bruno thought it was fabulous. So how did it all stack up?
Week 4 Leaderboard
Ricki Lake & Derek Hough 29
JR Martinez & Karina Smirnoff 26
Hope Solo & Maks Chmerkovskiy 24
Robert Kardashian & Cheryl Burke 24
David Arquette & Kym Johnson 23
Chynna Phillips & Tony Dovolani 21
Nancy Grace & Tristan MacManus 21
Chaz Bono & Lacey Schwimmer 21
Carson Kressley & Anna Trebunskaya 20
If you love ANY of these contestants, vote hard. As we saw last week, being high up on the leaderboard doesn't guarantee safety. Tomorrow night's Results Show continues the movie theme week with a live performance of the theme to Footloose by Blake Shelton, accompanied by returning pro Julianne Hough and her co-star in the movie remake, Kenny Wormald. Also performing will be Susan Boyle. The Dancing with the Stars Results Show airs Tuesday, October 11 at 9 p.m. (ET) on ABC.