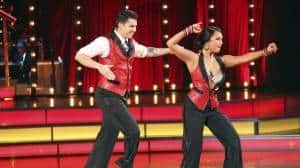 The Dancing with the Stars Halloween special for week 7 was full of more tricks than treats, because the judges (namely Len Goodman) were so off, I thought I was watching an entirely different dance show. See the video clip below. The remaining six couples danced a new individual dance and then danced in 2 groups of three for the team dances. The points scored in the team dance are added to their individual scores. Let's look at the individual dances first:
David & Kym danced as a magician and assistant for their cha cha; Len thought it was well done; Bruno says he was a natural at turning tricks. Then Bruno called Carrie Ann the 'p'word because of her cat costume, and brought the show right down to '˜that'level very early on. Of course he won't get in trouble. Carrie Ann thought it was great but he needs to work more on his hold. I honestly couldn't see what was so great about it.
JR & Karina's tango to Ghostbusters was a challenge because it is a serious dance paired with a fun song. Bruno thought JR lost his timing a few times; Carrie Ann acknowledged the same but thought it was the 'perfect tone.'Len though it substandard to what he has come to expect. I thought he was perfect and surprised they found fault with him.
Nancy & Tristan attempted a jived in devil costumes, and unfortunately as Bruno put it, the footing was '˜devilish.'Carrie Ann dinged her for losing some steps, and Len dinged her for being flatfooted and called it an overall disappointment. Nancy was quite good, but the judges just want her gone and are trying to convince voters she doesn't belong there.
Rob & Cheryl tango'd as Gomez and Morticia from the Adams Family. Rob threatened it would scare the living 10s out of the judges, but not quite. Len thought it well done; Bruno called him the master of the house, wants him to keep his bum in control and Carrie Ann thought it was his best dance so far. Note that only Kardashians in the house tonight were Kourtney & Scott; Everyone else is running for cover after Kim's big divorce announcement today.
Ricki & Derek's paso doble as little red riding hood and the wolf received great praise (of course). The only negative was her raised shoulders, which was attributed to her rib injury. Even still, they received the highest score of the night.
Hope & Maks samba'd to Werewolves of London. Teddy from the Troupe had to rehearse in Maks'place due to his injured toe. Maks still choreographed and coached, but Teddy was the stand in who helped Hope learn the dance. Hopes even commented she learned the dance much faster that way! It seems to have paid off because Carrie Ann thought it was her best yet; Len thought it was '˜well done'and Bruno said everything was '˜better'and she should be proud. Again, what were they watching? Hope has no natural grace and she bounces, she doesn't glide smoothly. It just didn't do it for me, but the judges just want Nancy out and this is a way to do it.
Next up were the Team Dances. On Team Tango was captain JR with David and Nancy. I thought they were amazingly great and entertaining but the judges sure didn't. They complained of the individual dances being a disaster. Bruno and Carrie Ann at least said that overall it was very nice. Score: 23
On Team Paso was captain Ricki with Rob and Hope. Of course the judges thought it was just fantastic, and Len commended Rob for keeping up with Maks and Derek. It was good, but so was Team Tango, don't think it was that much better. Score: 26
Here is the week 7 leaderboard with the individual dance scores and the total after adding the team dance scores: added to the individual scores:
Ricki Lake & Derek Hough 27, 53
JR Martinez & Karina Smirnoff 25, 48
Rob Kardashian & Cheryl Burke 25, 51
David Arquette & Kym Johnson 24, 47
Hope Solo & Maks Chmerkovskiy 24, 47
Nancy Grace & Tristan Macmanus 21, 44
Nancy is totally in jeopardy now and it will take all her fans voting multiple times to save her. Can they do it? Find out on Dancing with the Stars Results Show, November 1, at 9 p.m. (ET). Justin Bieber will be the musical guest.