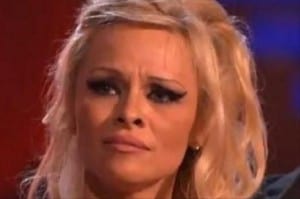 Dancing with the Stars: All Stars premiered to an enthusiastic live audience both in the studio and across the country, as Emmy winning host Tom Bergeron ushered in the new cast for Season 15. Judge Len Goodman warned us off the bat that the three judges will be tougher this season because the expectations are greater, and will add in a "half of a point" when they need to further define the individual scoring.  Dancing with the Stars fans in Twitterverse didn't take too kindly to the new half point paddles, with many predicting the judges will abuse it.  And think of the pressure on co-host Brooke Burke Charvet with the extra arithmetic. (Just kidding, we know some production assistant holds up a flash card for her.) By the end of the show, Brooke did learn how to say Facebook instead of Spacebook.
Thirteen returning contestants took to the ballroom floor to begin their second journey toward MirrorBall glory.  Not being one of the former champs or even a runner up, Pamela Anderson seemed to have the hardest time out there. She gave a very wooden performance, and if not for play acting out the song a bit, her cha cha could have been a complete bomb. She seemed to be in outer space, but came back to earth when she heard the harsh criticisms from the judges, all of whom told her to "get to work". Holding back her tears and admitting she "did not want to be the first to cry on Dancing with the Stars", she received the lowest score of the night. The dance wasn't a total waste, because we got to see partner Tristan MacManus in an unbuttoned open shirt.
Tonight also saw the much balked at return of Bristol Palin.  A Tea Party placed runner up from Season 11 and former "teen activist", she is now introduced as a "reality star" even though her short lived reality show was cancelled by TLC.  The woman who cha cha'd with former partner Mark Ballas tonight might as well have been someone else entirely given the new hair, new face and new bod. A much slimmed down Bristol danced with more confidence than we saw the entire run of Season 11, and received decent praise from the judges. With mama bear Sarah Palin front row, Bristol received only the third lowest score of the evening, topping fan favorite Kirstie Alley by a (silly) half point.
Speaking of Kirstie, her much anticipated return with former partner Maks Chmerkovskiy seemed to be drama free. Until she planted a long wet one on Tom Bergeron as a congrats for his Emmy win, while Maks snuck in his standard gratuitous butt pinch.  Kirstie must have felt the need to make the audience laugh after her foxtrot failed to make an impression on the judges. For his part, Maks remained quiet for once during the judges' smackdown.
With the tougher judges this season, most of the celebrities received scores in the 7.5 neighborhood and are lumped close together in the middle of the leaderboard.  Not surprisingly, Emmitt Smith (see video below) danced to the top with his crowd pleasing cha cha, with Gilles Marini and his elegant foxtrot trailing him by a half of a point. Here are the overall scores for the debut of Dancing with the Stars: All-Stars:
Week 1 Leaderboard
Emmitt Smith & Cheryl Burke: 24.5
Gilles Marini & Peta Murgatroyd: 24
Sabrina Bryan & Louis VanAmstel: 22.5
Shawn Johnson & Derek Hough: 22
Apolo Anton Ohno & Karina Smirnoff: 22
Helio Castroneves & Chelsie Hightower: 21.5
Kelly Monaco & Val Chmerkovskiy: 21.5
Drew Lachey & Anna Trebunskaya: 21.5
Melissa Rycroft & Tony Dovolani: 21
Joey Fatone & Kym Johnson: 20.5
Bristol Palin & Mark Ballas: 19.5
Kirstie Alley & Maks Chmerkovskiy: 19
Pamela Anderson & Tristan MacManus: 17
One of these couples will be sent home on the premiere Results Show tomorrow night. Could it be low scorers Bristol, Pam or Kirstie? Or will we see a shocking elimination? It's all up to the voters now, but until that heart stopping moment we'll enjoy performances by Justin Bieber and Pitbull on Dancing with the Stars: The Results Show, airing live Tuesday, September 25 at 8 p.m. (ET) on ABC.