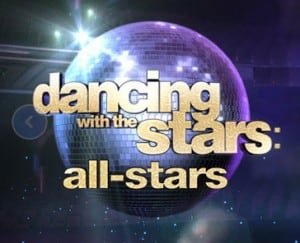 Love Dancing with the Stars? Love to comment and share your opinions?  Well now is your chance to blog for the show! ABC is seeking fans from around the country to blog for Dancing with the Stars this season; selected Super Fan Bloggers will then have a chance to compete for a trip to the Dancing with the Stars Season 15  All Stars Finale! Read the press release from ABC to see how you can enter and win:
To celebrate the upcoming season of the hit series "Dancing with the Stars: All-Stars," ABC and affiliates around the country are challenging fans to be the Ultimate "Dancing with the Stars: All-Stars" super fan blogger, www.dwtsblogcontest.com. Fans in key ABC Markets will have the opportunity to compete to be their market's official show blogger for the season. The super bloggers from all participating markets will then compete and one lucky super blogger will be flown to the season finale. The following ABC affiliates are participating by running a contest in their market: WLNE(Providence/New Bedford),WKOW(Madison), KTRK (Houston), WFAA (Dallas/FortWorth), KMGH(Denver), KGUN(Tucson), WNEP(WB Scranton), WATE (Knoxville), WBRZ (Baton Rouge), WAAY (Huntsville), WRIC (Petersburg/Richmond) and KSAT(San Antonio). Fans in each participating market have up until September 18th to tell their local ABC affiliate station why they deserve to be the ultimate super fan blogger fortheir respective markets. Each contestant's short essay entry will be judged on quality and persuasiveness, suitability for promotional purposes and creativity/originality. One winner in each market will be chosen to watch the show each week and write a blog about it after that will appear on their local ABC affiliate's website. The blog will include the super fan's take on the episodes and topics such as who they think will win, be voted off, or who showed the most style, heart or charisma. The winning blogger in each participating market is then eligible to compete against the other local winners in separate blogger contests for a chance to attend the season finale of "Dancing with the Stars: All-Stars."
Read the official rules here: www.dwtsblogcontest.com
Also new for Dancing with the Stars Season 15, votes will be accepted on Facebook in addition to voting online at ABC.com. AT&T is sponsoring a custom Facebook app which will let fans vote, comment and access yet another new feature "After Party: Dancing with the Stars". The After Party will be a 15 to 20 minute live web show that will take place online at www.ABC.com/DancingWithTheStars, Facebook and YouTube immediately following each Monday night performance episode. The live stream will feature a host, a panel of dance experts, show talent and celebrity guests dishing the highlights of the night and answering questions via Twitter, Facebook and ABC.com.
Get your dancing shoes ready for Season 15 of Dancing with the Stars. The season premiere airs Monday, September 24 from 8:00 p.m. to 10:00 p.m. (ET). For a list of this season's stars and their pro partners, click here.