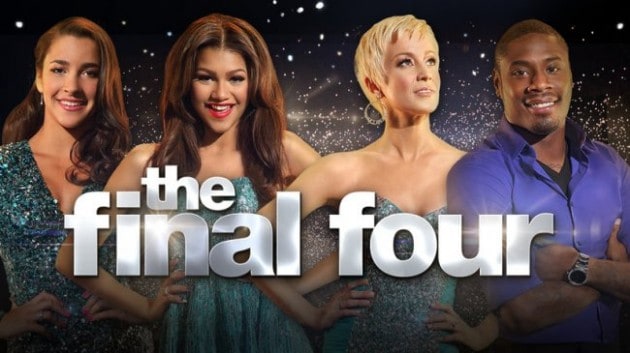 It all comes down to this Dancing With the Stars fans.  Tonight's two hours of competition will decide the winner of the 16th mirrorball trophy, and as previously announced tomorrow will mark the last results show you will ever see for DWTS as ABC rolls the series into a once weekly competition and results broadcast.  Still in the running are Kellie Pickler and Derek Hough, Aly Raisman and Mark Ballas, Zendaya Coleman and Val Chmerkovskiy, and Jacoby Jones and Karina Smirnoff.  Let's look at some stats and see who has the advantage going into tonight's competition.
Jacoby and Karina
Despite being in jeopardy several times this season, Jacoby managed to raise the bar for himself and was actually tied for top place last week.  In terms of his performance, Jacoby has displayed the resolve of the professional athlete he is and has trained hard;  that perfect score was no accident. While it is definitely true that Jacoby is arriving late in the game and with a lot of 'jeopardy' weeks behind him, he should not be counted out.
Season Average: 25.3
Aly and Mark
As expected, Aly's Gold Medal gymnastics skills have established her as a frontrunner as the season has become more competitive with more physically demanding dance routines.  That said, it is hard to say whether or not we have seen her true potential.  Even though her routines have definitely relied on her physicality, odds are Mark Ballas, who has choreographed for Gold Medal gymnasts before, will try to create a performance that elicits the 'wow' factor tonight.
Season Average: 26.4
Zendaya and Val
Zendaya going into jeopardy last week was a huge surprise to everyone, particularly her fans and judging by the look on her face, most definitely her.  Zendaya has gone father in the contest than previous Disney darling Sabrina Bryan, and as things stand right now she could be considered a favorite.  As we reach the top of the scoreboard, however, the contest becomes one of fan-base and Zendaya's biggest downfall has been her lack of an adult audience prior to appearing on Dancing With the Stars.
Kellie and Derek
Besides being at the top of the scoreboard, and absolutely earning that spot with legitimate dance skill, Kellie Pickler is also an established brand in the reality competition world as well as the Country Music world, giving her a huge advantage.  In terms of what they need to do in order to gain even odds on winning the DWTS mirror-ball, they only need to stay the course.  It's the more intangible element of whose star power will bring the most votes that Kellie and Derek need to contend with, since high scores and praise are virtually guaranteed.
The Bottom Line
This is where the tension enters the equation:  if this were a battle of Charisma, Jacoby would have an advantage; skill, Aly or Zendaya; popularity, Kellie and Derek – but, the final result will be a combination of all of these factors and at the end of the day it's impossibly to know how the pie is sliced from one season to the next.  The best we can offer is a purely statistics based prediction:  Kellie and Derek are likely to win.  That said, the top four is so amazing this year that an unexpected outcome would make for exciting viewing and no-one would claim the contest was robbed.  Tune in tonight to Dancing With the Stars' finale night of competition kicking off at 8pm EST on ABC.