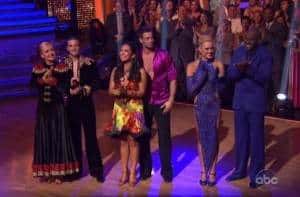 The Dancing with the Stars Finals jam packed six dances into one hour by the final three: Katherine Jenkins, William Levy and Donald Driver. Along with the ever popular freestyles, the contestants danced 'Judges'Choice'dances to show the judges how much they've improved over the season. Katherine is at the top of the leaderboard with a 60, while William and Donald are tied at 59.
Judges'Choice
William & Cheryl were given the cha cha, which made no sense at all, unless you consider this is where rigging comes into play. William danced the cha cha in the season premiere and was given three 8s for his debut effort, which is pretty darn good for a premiere. His jive in Week 4; however, was a mess. In a fair competition, the judges would have given him the jive to re-do. But since this is Dancing with the Stars and two judges have the hots for William, fairness doesn't stand a chance. For his finale cha cha, all the judges praised it, citing 'growth'since his first time on the floor. Bruno called it an 'intoxicating Cuban cocktail'(uggh) William received an overscore of 30.
Katherine & Mark had the paso doble, which Len wanted her to redo because her first time at it in Week 4 was 'messy'. This time around Bruno touted her technical brilliance and Carrie Ann said she was a prima ballerina. She received her first 10 from Len, and a perfect score of 30.
Donald & Peta were given the Argentine Tango. The judges wanted to see more content and dynamic movement since the first time he danced it in Week 5. Although Len saw more content and liked the intensity and crispness, he thought it a "tad careful." Carrie Ann and Bruno gave him 10s, but again, not Len. Donald received a 29.
Freestyles: (see all three videos below)
William & Cheryl's freestyle was a salsa and tango, but basically was simulated sex and lifts, period. While Carrie Ann and Bruno salivated, only Len called out what it was, 'too predictable'. He said all Wiliam did was shake his bum and get women screaming and he's "fed up with it." Len deprived him of a 10, so William received a 29.
Katherine & Mark's freestyle routine had fast paced jive and lindy hop elements after the first 10 seconds in which she showcased those precious vocal pipes. There were in fact not one, but two rough landings, which none of the judges bothered to point out. Must be finale freestyle fever. The judges gushed, and Katherine received another perfect score of 30.
Donald & Peta's freestyle was the show stopper of the night: a cowboy/western theme with amazing, scary lifts on a simulated football field. Carrie Ann said it was her favorite dance of the night, Len thought it was fantastic (which it truly was) and Bruno could not resist a ride in the wild, wild west, calling it a "country inspired triumph." And triumph it was, as Donald received his first perfect score of 30. Bravo, this was indeed the best dance of the night.
Immediately after the show, the final three were given new dances and music to learn a routine in just 24 hours. On Tuesday night's Dancing with the Stars Finale results show, the couples will have to perform their '24 Hour Challenge'routines and will receive their final scores from the judges. These scores will be a tabulated with the votes and scores from Monday night's show. And thus, a Season 14 Mirrorball Trophy winner will be born.
Dancing with the Stars 2 hour live Finale Results Show of Season 14 airs Tuesday, May 22 9 p.m. to 11 p.m. (ET) on ABC.