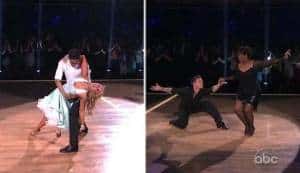 Dancing with the Stars eliminated none other than Motown legend herself, Gladys Knight, in a week that celebrated the era of the very music that she was so much a part of. The second insidious dance duel pitted Gladys against Disney star Roshon Fegan in a fast paced jive, a dance neither had taken on yet in the competition. See the video below.
It was interesting how judges Carrie Ann Inaba and Len Goodman were writing in their notebooks even before the dance duel kicked off. What could they possibly have to note before watching the dances? Carrie voted to save Gladys, but Len and Bruno Tonioli saved Roshon. As Gladys said her goodbyes, the band chimed in with "Midnight Train to Georgia", a Gladys song that would have worked better last night when life was good, and not as a send off song.
Dancing with the Stars threw us a bit of a curve ball when they placed 4 couples in jeopardy instead of the typical 3, including Maria Menounos & Derek Hough and Melissa Gilbert & Maks Chmerkovskiy. When these two were saved, there was shock amongst all as the realization hit that 67 year old Gladys was to duel against 20 year old Roshon. Not only was the age difference a cruelty factor, but to do this to Gladys during Motown Week was just heartbreaking and undignified. If the purpose of the dance duel is to save a good dancer from elimination, then the right dancer was saved. But sending Gladys home this particular week is a new low for Dancing with the Stars. Roshon is in fact one of the better dances on the show and did not deserve to be in the duel, but his low scores the night before sealed his fate. And not only would Roshon feel horrible being in the dance duel, he must have felt even worse having to dance off against such a classy, much loved legendary figure. The dance duel is just plain cruel.
The writing is on the wall for Roshon. He has been in the bottom 2 three times and has lost some favor with the judges for some weird reason. He went from being called the 'best male dancer'of the season to being unfairly bashed by Carrie Ann and Len. Hopefully by next week the judges will find someone new to pick on.
The dance duel is mostly loathed by viewers, but Dancing with the Stars needs it for controversy in a season where there is none. We have only one more week of this dance cruelty and then we can get back to the normal unfairness of the voting blocks. There was no 'surprise double elimination'this particular week, but we haven't ruled it out. Read more on this hot topic here.
Dancing with the Stars kicks of Classical Week on Monday, May 7 at 8 p.m. on ABC.