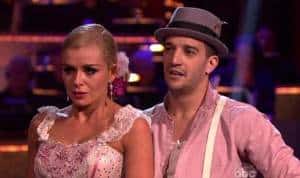 Dancing with the Stars' Latin Week kicked off to the sultry sounds of Santana, which gave way to some of the sultriest dances we will see in Season 14. The Argentine Tangos performed by three of the couples earned some of the highest scores of the night. Katherine Jenkins and William Levy's tangos earned them a tie for first place. Donald Driver also tango'd, but fell from the top last week and is tied at 2nd place with Maria Menounos for her sexy salsa.
Week 5 leaderboard:
-Katherine Jenkins & Mark Ballas 29
-William Levy & Cheryl Burke 29
-Maria Menounos & Derek Hough 27
-Donald Driver & Peta Mugatroyd 27
-Roshon Fegan & Chelsie Hightower 26
-Jaleel White & Kym Johnson 24
-Gladys Knight & Tristan MacManus 22
-Melissa Gilbert & Maks Chmerkovskiy 21
–Gavin DeGraw & Karina Smirnoff 19
If the contestants were the Latin dancers of the night, the judges were the Latin bandits, robbing the couples left and right of scores they deserved. Donald and Peta's tango was clean, precise and very sexy. A true Tango. Yet Len Goodman, who didn't give 10s to anyone, ridiculously gave them an 8, which knocked Donald down a notch. Katherine's score for her tango, while well earned, was not the perfect score of 30 she actually deserved. Also robbed was Roshon Fegan, who danced a perfect salsa. While Carrie Ann Inaba and Bruno Tonioli recognized the enormous talent of this kid with his precision and spot on timing, Len told him he needed to 'calm down', and he lands in 3rd place. Apparently enthusiasm is a negative in dancing?
Jaleel gained two points from last week and while the judges had no real criticism, he received only 8s. This was probably because he danced first and the judges were trying to be conservative early in the show. Melissa fell one point from last week. Interesting because she had an obvious gaffe last week while this week she didn't. Her salsa was far from perfect though, and the judges thought it 'untidy.'She teased and concerned fans prior to the show by blogging on People magazine that she would re-do the same move that caused her concussion and whiplash from last week. The joke was on us, because she and Maks actually reversed the move. See video below. I apologize for tweeting to her that she senseless and should wear a helmet.
Maria and Derek did their usual hot and spicy thing on the dance floor following yet another injury. This time she allegedly whacked her chin in rehearsals. I don't believe that any of these injuries are real but rather a desperate ploy for attention. And Derek ripping his shirt off during their dance solidifies that! There's just nothing interesting about this couple otherwise. They faked another kiss in the middle of the routine which Carrie Ann felt was unnecessary to the illusion of the dance. Still they managed to dance off with three 9s.
Besides being at the bottom of the Dancing with the Stars leaderboard, Gladys and Gavin share something else in common. Both spent rehearsal week performing at various engagements around the country, undercutting their practice time and it showed. Gladys was praised for her stage presence and musicality, but the judges found her samba too simple, and noted some mistakes. Gavin's samba was deemed a 'shamba'by Len. Although entertaining and a gallant effort, the judges didn't like it at all. He falls 6 points from last week.
None of the contestants want any part of being in the first Dancing with the Stars 'dance duel', but like it or not, two couples will go head to head Tuesday night in a cha cha dance off. Gavin is likely to be part of it and if he's faced off against Gladys, is most likely to be eliminated.
On Tuesday night's Dancing with the Stars Results Show, Sheila E, Train and Selena Gomez perform. Another couple will be eliminated, but will it be another shocker? The fun begins April 17 at 9 p.m. (EST) on ABC.