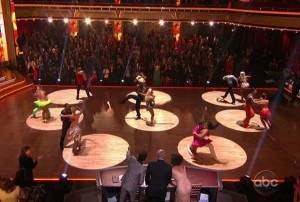 Dancing with the Stars Motown night was a bumpy ride for some and a comeback night for others. But was it fair? Not quite. It seemed the judges played their favorites even during the Motown Marathon. They know who they want in the finals, and their favoritism was on full display as they under and overscored the entire evening. One of their worst transgressions was crucifying Roshon Fegan for his rumba, and that probably sealed his fate. Gladys received the lowest score (sad too since she herself is a Motown legend), and Roshon will probably find himself in the dance duel and may even be sent home. Katherine Jenkins sits atop the leaderboard, with Jaleel White and William Levy not far behind.
Things got off to a nice enough start with Smokey Robinson, Martha Reeves and The Temptations performing a three song medley to open the show. But as the couples made their intro down the stairs, something distracted the camera man. Instead of shooting Donald Driver & Peta Murgatroyd, he focused on a trumpet playing band member! Throughout the night we listened to some great music performed by these legends but at the same time we had to suffer through some of these dances that just don't mix with Motown music. Even Motown founder Berry Gordy acknowledged from his seat in the audience he never would have imagined 50 years ago that his music would one day be celebrated on a ballroom dance show. And with good reason. After the regular dances was the Motown Marathon which shuffled things up on the leaderboard after the night's regular scores.
First up was Gladys who danced to The Temptations'My Girl. This was special for her because she toured with this legendary group back in the day. Unfortunately, the judges didn't think her rumba was special at all. While Len says she is the most charismatic dancer, it wasn't steamy enough for Bruno and Carrie Ann noted some '˜forgetful moments.'Overall it was a very good dance. If anything was wrong with it at all, it was that it just didn't fit the music. Instead of recognizing that, the judges penalized Gladys. Of all nights for this to happen, she slides down one point from last week. 21.
Maria Menounos'foxtrot to Martha Reeves'Jimmy Mack didn't do her any favors this week. No talk of injuries for once but she did lose her footing. You could actually say she dances better when she's '˜injured'. The best part of the dance was Martha' breathless rendition of this song. Bruno and Carrie Ann both called her out on her slip, while Len thought the whole performance was a joy to his ears and eyes. With an obvious error, she falls only one point from last week. 26
Roshon Fegan's rumba to Smokey singing 'Cruisin"was smooth and hot, but the judges slaughtered this poor kid. He's one of the best dancers this season, yet each week now they find a way to criticize him for things that they seem to make up in their heads. This time they said his movements were over-exaggerated, clipped and jerky and not sensual or sexy. Carrie Ann also made some comment about the lift he and partner Chelsie Hightower did which looked fine to the rest of us. Chelsie tried to defend, but got nowhere. Roshon dropped 3 points from last week. 23
Katherine samba'd to the Temptations 'I Can't Get Next to You'. All the judges loved it, including Len who called Katherine a midwife because she keeps delivering week after week. While she is a favorite of the judges, the perfect score continues to elude her. That Len just won't give her the 10 she deserves. 29
Donald's foxtrot to The Temptations 'Way You Do The Things You Do'was supposed to be an appeal to Len for a 10. Len wasn't having it, but did refrain from noting Donald's obvious slip (which happened because he was too busy playing up to Len). 27
Melissa Gilbert's Viennese Waltz to Smokey crooning 'Ooh Baby Baby'earned her what will probably be her best critique of the season. The judges thought it was romantic with a good connection to partner Maks. Carrie Ann acknowledged that Melissa's hard work was finally paying off. It was in fact Melissa's best dance, but the judges had to find something to keep her down. They picked on her lost '˜energy'at the end, which was not apparent to anybody else. Carrie Ann said she was going in the right direction, but she still can't climb that leaderboard very far. 24
Jaleel's cha cha to The Temptations 'Heard It Through The Grapevine'was fuelled by the stress from being in last week's dance duel. Partner Kym decided the dance duel was a blessing, because the judges knocked themselves over with the compliments. It was good, but it wasn't the 'biggest sizzler of the season'that Bruno claimed it was. Carrie Ann said he brought his A game, and Len announced that Jaleel is 'back'and he moves up 5 points from last week. 29
William's rumba to Smokey's 'Being With You'was practically X rated, judging from partner Cheryl Burke's facial expressions. Talk about over-exaggerated. And even though William is a good dancer, Cheryl danced around him, a common technique pros use when they have sucky partners. Bruno claimed it was utter 'filth'and loved every minute of it, and Len thought it to be on the raunchy side…which it was. His dance consisted mainly of Cheryl gyrating all over him. He really didn't do much, but is capable of much more. As long as Bruno is there, William isn't going anywhere. He creeps up to 2 points from last week. 27
Ending the show was the Motown Marathon which had all the couples dancing a side by side cha cha and being eliminated one by one with a tap on the shoulder within four minutes. See video below. The first couple eliminated received 3 extra points, second couple 4 points, all the way up to the last couple who received 10 points added to their score. The leaderboard below includes the performance dances and the marathon results.
Week 6 Leaderboard
-Katherine & Mark 39
-Jaleel & Kym 37
-William & Cheryl 36
-Donald & Peta 34
-Maria & Derek 30
-Melissa & Maks 30
-Roshon & Chelsie 28
-Gladys & Tristan 24
Gladys was picked off almost immediately even though she was dancing just fine. Surprisingly, Maria and Derek were next, a first for Derek. Roshon was picked off third and there was just no reason for that because Roshon could dance all night and dance well. Melissa, Donald, Jaleel and William were eliminated in that order, leaving Katherine to take the 10 points. The Marathon results seemed to showcase the judges' favorites, and it's probably a safe bet to say that the last four contestants remaining Katherine, William, Jaleel and Donald, will be in the Dancing with the Stars Semi-finals in just a few weeks.
Host Tom Bergeron made no mention of a double elimination for the Dancing with the Stars Results Show, stating only that the bottom two couples will face off in a dance duel. We will just have to wait and see if they spring it on us Tuesday, April 24 at 9 p.m. (ET) on ABC.