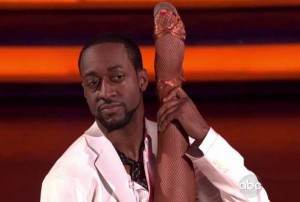 If you tuned in to Dancing with the Stars, you may have used a lot of Kleenex. It was personal story night, and the tears were flowing on both sides of the camera. There wasn't a dry eye in the house as we watched most of the contestants cry during their rehearsal footage and then in the skybox during the scoring. It was a miracle they made it through their dances. The upside for the crying stars was being in tears meant they couldn't answer Brooke Burke Charvet's silly questions.
Katherine Jenkins is in first place with 29, while there is five way tie for last place. The dancing was exceptional all around; reminiscent of the season premiere. Everyone gave nearly spot on performances. Only William Levy and Cheryl Burke had a very obvious mishap in their ridiculously hot salsa, (see video below) what with her head being caught by his leg, but only Carrie Ann mentioned it while Bruno ignored it and gave them a 10. Katherine pulled off a flawless waltz, Maria Menounos and Derek Hough shared a kiss during their equally flawless rumba, Jack Wagner had his best dance yet with his samba, Gavin DeGraw finally proved he had hips in his rumba, Roshon Fegan made Michael Jackson proud with his samba, Sherri Shepherd's face was as full of emotion as her rumba, Gladys improved her frame for her foxtrot, Jaleel's rumba was hot and smoky, Donald Driver's rumba was full of warmth and passion, and Melissa Gilbert was 'dynamic'in her jive.
Week 3 Leaderboard:
–Katherine & Mark 29
-William & Cheryl 28
-Maria & Derek 27
-Donald & Peta 26
-Roshon & Chelsie 25
-Jaleel & Kym 25
-Jack & Anna 24
-Gladys & Tristan 24
–Gavin & Karina 24
-Sherri & Val 24
-Melissa & Maks 24
It's just impossible with scores like these to predict who will be sent home. Surely any one of the couples with 24 is in jeopardy, but you just never know. There was some drama that played out this past week behind the scenes at the Dancing with the Stars studio that could shake up the leader board. A number of outlets reported on a heated exchange between Jaleel White and pro partner Kym Johnson that occurred last Friday, with fellow pro Mark Ballas having to step in. So bad was the fight, it is rumored that Jaleel was banned from rehearsals. There was no mention made of this during the show; however, if you watched carefully, Jaleel, and Mark were never in the skybox at the same time, nor were Jaleel and Kym, except during the scoring. While being questioned on his performance by Brooke, Jaleel did break down (though his story wasn't the emotional type) and cried 'I just wanted to complete the week with Kym.'Watch the video below and make out of that what you will.
This can't be the first time a star and pro were at odds during Dancing with the Stars rehearsals, what with the pressure, frustration and hours upon hours spent together, and it probably happens far more than we realize. The difference here is the abuse allegation made against Jaleel about his custody battle which only came to light in the last few days. And that's probably why this conflict with Kym was leaked and grew like wildfire. As usual, neither ABC nor Dancing with the Stars has commented.
Another couple will be sent home on the Dancing with the Stars Results Show, which will include performances by Seal and Rascal Flatts, Tuesday April 3 at 9 p.m. (ET) on ABC.