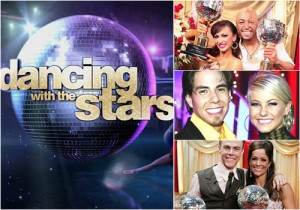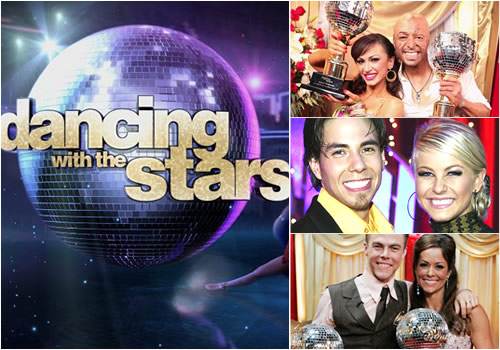 **UPDATE Click here for the official cast list**
ABC will announce the Dancing with the Stars Season 15 All Star cast on July 27, earlier than usual for the Fall season announcement. This begs the question, just how far in advance had the show been working on this cast? Rumor has it that this has been years in the planning. The tricky part would be to ensure the celebrities they want are available to appear when the time came. And the time is now! So who is rumored to be part of the cast?
Season 15 will supposedly be the biggest Dancing with the Stars cast ever, and according to Ralph Macchio, consists of previous top three finalists. Here is a list of names that are getting lots of press, though note that not all were actually finalists:
Donny Osmond
Joey Fatone
Kelly Osbourne
Drew Lachey
Gilles Marini
Maria Menounos (not a finalist)
Mario Lopez
Stacey Kiebler
Louie Vito (not a finalist)
Mel B
Kyle Massey
Bristol Palin
Bristol? Yikes! For a second I'd forgotten she was in fact a finalist in Season 11 and her former partner, Mark Ballas may want to run the other away if this rumor is true. Speaking of Mark, just as important as the celebrities are the pros, and fans want to know if their favorites are returning. ABC has been mum on whether the pros will partner with their former partners, but that could get tricky. Peta Murgatroyd, last season's champion, would surely return, but it's unlikely either of her only two partners, Ron Artest a.k.a Metta World Peace or Donald Driver will return. It certainly would be more entertaining to mix it up a bit by having the celebrities dance with new partners. We would expect to see Derek Hough, Mark Ballas, and Cheryl Burke return, and even though Maks Chmerkovskiy likes to tease, he will probably return.
Aside from cast rumors and pairings, another question this Season 15 All Star poses is, will a Dancing with the Stars sequel be as good as the original? Personally I'm not expecting to find it as exciting as watching a brand new crop of stars take to the ballroom floor, but we'll just have to watch the whole season to really answer that. ABC will announce the Dancing with the Stars Season 15 All Star cast during the Television Critics Association summer press tour on July 27, with the big reveal given by show hosts Tom Bergeron and Brooke Burke Charvet.