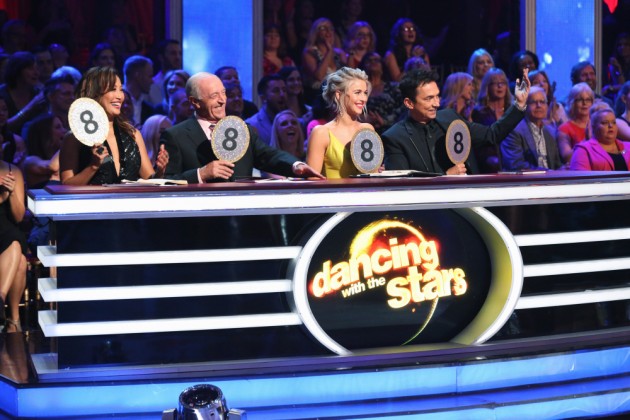 It was My Jam Night on this week's Dancing With the Stars but it wasn't necessarily my jam. I know that every week the show tries having one unifying, connecting theme to help bring the episode together, but these songs could have been chosen at random and it would've been the same to me. Yes, the stars all mentioned once or twice that their song was their favorite, but that was it. I am looking forward to the "Emotional Moments" week where they have to choose a song and explain what that moment meant in their lives.
Regardless, the dances were spectacular, especially compared to last week's! The stars all seemed to take the judges' advice and apply it, which isn't always the case in certain seasons of Dancing With the Stars. For example, while Michael's footwork did improve, he said that he was almost offended when Len called it "atrocious" last week. Does that mean he also gets offended by sports commentator who insult his game play? The point of the judges is to help you get better in any way possible, not just praise you. His foxtrot with Peeta was excellent, and all of the judges agreed on that and, again, gave him constructive criticism. They didn't insult him.
I was a little taken aback by a few things this week. First, we had Robert and Kym doing the foxtrot. The judges all said that they were cute, but I didn't see it. While their dance was good, it wasn't charming, and the amount of scenery they used! They used the entire platform to stage a picnic and then the rest of the dance floor was lit bright green to simulate grass. Next, when Willow and Mark performed their dance, they wanted to go out and come back into a painting. I had to rewind the show I was so distracted by it. Their dance was better was their first attempt (most couples' were), but their vision threw me. Finally, I admired how seriously Redfoo is taking this competition. He said he wants to see it through to the end, which I thought was great. What I thought was ridiculous was that his entire section of the audience was wearing his Redfoo glasses.
There were a few great dances as well. Rumer and Val were superb; she is the surprise front-runner for the season, and if she's voted off within the first few weeks, I will be shocked. Derek and Nastia had a beautiful dance and received the highest score of the night.
Then came the moment everyone was dreading: this week's elimination. Sadly, the first pair to leave the dance floor tonight was Redfoo and Emma. If this was right after last week's premiere, I would've said that's fine. However, it's disappointing to see just how much Redfoo had improved in Week 2, only for him to get eliminated. I'm not sure who I wanted to go home, but I don't think it would've been him and Emma.
A few notes:
– As soon as Noah started talking about his girlfriend and how he was dedicating his dance to her, it would have been a huge letdown to the audience if she hadn't been made an appearance during the episode. The fact that she did and that it was a complete and total shock to Noah made the whole thing worth it!
– Did anyone else feel bad when Tom Bergeron joined in on the dance crew?
And here are the scores for Week 2:
Derek & Nastia- 34
Rumer and Val- 32
Willow & Mark- 32
Riker & Allison- 32

Redfoo & Emma- 31

Susanne & Tony- 28
Robert & Kym- 28
Michael & Peeta- 28
Patti & Artem- 28
Noah & Sharna- 27
Charlotte & Keo- 26
Chris & Witney- 21
[Photo via ABC]