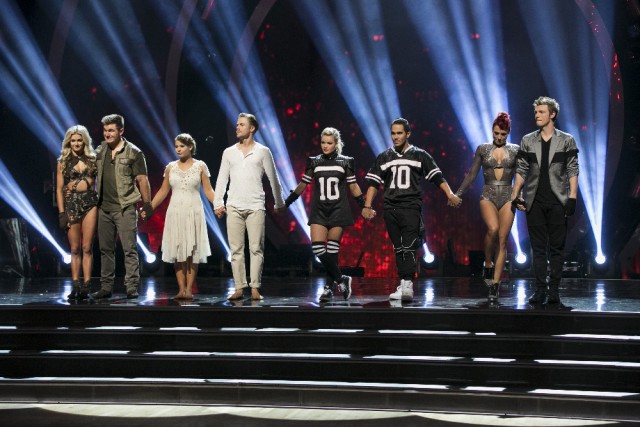 Last night began Dancing With the Stars' two-part Season 21 finale, and the show held nothing back. Dancing With the Stars immediately started the night off with a great performance by Meghan Trainor, and then it was off to the dances, which were amazing! From Carlos' awesome foxtrot to Nick's jive, the stars were on their A-game last night on Dancing With the Stars!
Let's begin with Carlos and Witney, who first danced the foxtrot. Now, they had not gotten a perfect score previously in the competition. However, Witney said (quoting Will Smith), "Nothing worth having comes easy," but last night, after an incredible dance, they got a thirty out of thirty! Julianne commented that it was the "Sexiest foxtrot I think I've ever seen!" Carrie Ann added, "You are so deserved of being here tonight." Next, she and Carlos brought back past contestants from the season, including his wife, to add to their freestyle. Frankly, I thought it made his freestyle that much better. All of the judges applauded Carlos for it as well. However, he didn't let it take the spotlight away from him. Carrie Ann noted, "That was the freshest, flyest free style I've ever seen!" while Julianne said, "That's called taking risks. That's called going for gold." Their cumulative score was 60.
Next, Alex and Lindsay danced the rumba. One of the judges dropped by each star this week, and Carrie Ann stopped in on Alex. She noted that he needed to work on his sexy face and also his hip action. While he achieved the 'face,' all of the judges commented on the hip action. Carrie Ann did notice how much of a difference she saw while they were in rehearsal and while they performing and applauded him for it. She also said, "You're strong point is this strength, and this determination, and this power that you have." Next, for their freestyle, Alex and Lindsay used an army obstacle course as their inspiration, and they literally were climbing up the walls and doing trust falls. The amazing thing is that Lindsay made it work into the dance, and it looked so astonishing! Not only was it cool to watch, it was also breathtaking from a dance point of view. Bruno, agreeing with comments from Carrie Ann and Julianne, said, "No challenge is too great when you have faith, and you have translated this perfectly into dance." All together, they got a 57 out of 60.
Nick and Sharna were up next with the jive. Julianne told him when she was visiting to pretend like there was hot lava on the ground, and it did the trick! His footwork was on point. Julianne said, "You performed the crap out of that number!" Carrie Ann even included, "Tonight was your best performance of the whole season!" I didn't feel their freestyle was as good as it could have been. I'm not saying it wasn't great. I'm just saying it was "Backstreet Boys concert great" rather than "Dancing With the Stars great." However, like what has happened all season on Dancing With the Stars, the judges have disagreed with me. "I'm so happy that you know how to take a note because you just finished this final with the most incredible, freaking awesome Backstreets Boys [performance] ever!" exclaimed Carrie Ann. Nick and Sharna scored a 60.
Finally, Bindi and Derek performed the quickstep. Can I point out that the reason that the two of them are so beat up is because of Derek's work ethic? Yes, I know: yhat's the reason he's so good and why he's so won so many seasons of Dancing With the Stars, but would it kill him to say, "Let's go get a pizza!" Either way, both of their dances were flawless. Bruno commented on Bindi and Derek's first dance, saying "That really was a gem of a quickstep." Carrie Ann commented on their second dance, telling the two of them "That was a dancer's freestyle." I haven't looked at any websites, but I'm know that Bindi is the front runner to win the competition tonight. She's always getting great remarks from the judges. She's always getting phenomenal, if not perfect, cores. She's the one the beat. She and Derek also scored a 60.
In the end, it came down to Nick and Sharna and Carlos and Witney who were up for elimination this week. Someone had to go, and it was Carlos and Witney. They did have the nice sentimental package of their best dances together. Oh well… Not that I wanted him to go home, but way to go Alex for staying in the competition!
Well folks, who do you want to see take home the trophy? Bindi and Derek, Nick and Sharna, or Alex and Lindsay? Tune in to tonight's Dancing With the Stars finale to see the winner take home the Mirror Ball!
[Photo credit: Adam Taylor/ABC]