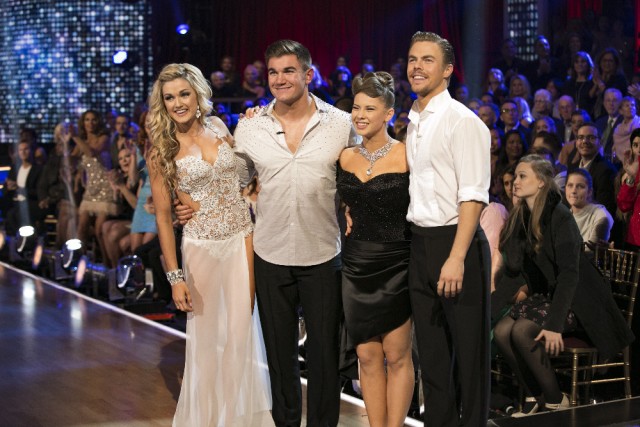 Wow. I am amazed they can fit so much stuff, including commercials, into the tiny two-hour Dancing With the Stars season finale, but they did. Now, some of it worked. I always like the behind-the-scenes of the previous weeks' (or in this case the previous night's) dances. They had various video packages throughout the night (outtakes, recaps, personal interviews, etc.) and one of them was 'Twas the Night Before the Finale… I didn't really think I was going to like this as much as I did. Paula and Gary interacting was amusing. I thought that Emma and Val did a fantastic job dancing to "Where Are You Christmas?," presumably from the Pros' Tour. I thought that the outtakes were funny.
However, I wasn't sure how I felt about the stars coming back to dance. I thought it was really cool to see stars revisit certain dances, like Alex, Nick, and Hayes. But with others, like Victor, I thought, "What's the point?" Not that I mind his personality. I was just reminded why he was voted off. Also, I would have liked to see more dances from nights other than TV Night, which is where we saw five dances from! There were also not as many musical performances as I thought there was going to be. It was just Elle King. Granted, Chaka Khan and Andy Grammer both sang because either they or their partner couldn't dance, but I would've expected something else. Also, Erin Andrew was so funny last night!
Now, onto the final three performers! We have Nick and Sharna and Bindi and Derek, who were tied last night with a score of 60 points each, and Alex and Lindsay in third with 57. First, we started out with the judges giving the pros and cons, the strengths and weaknesses of each contestant. Initially, they discussed Nick. While a weakness is that "his butt is always out there," he is always "natural performer" who is "pushing emotional boundaries." Moving onto Alex, Carrie Ann said, "He is strong. He is powerful. He is disciplined." Julianne pointed out, though, "I haven't really seen him bust out." Finally, it was Bindi's turn. While Carrie Ann did say, "When Bindi dances there's a magic that happens," she also said, "She's so perfect that it can become almost boring."
Then, however, it was time for the 24-hour fusion challenge. Each team had 24 hours to combine two different styles of dance together. First, Nick and Sharna's dance looked good, and the judges finally agreed with me! Julianne stated, "This was your last chance to dance, and you did it beautifully." Carrie Ann added, "You ended on the highest up possible, and you are the real deal and please may you never doubt that again." In the end, they got a perfect score. Combined with last night's scores, they got 90. Would this be enough to get them the Mirror Ball?
Alex and Lindsay had the rumba and tango to fusion. While she looks happier in the dance, he's finally moving his hips, which the judges noticed. Bruno commented, "Your hips are starting to come alive!" If only they had done that in the earlier weeks! The judges also noticed some footwork problems that I missed, but they still praised him. "I love you the way you dance," Carrie Ann said. The judges awarded him a score of 27, so with the previous night's score of 57 he ended up with 84. Can that win him the trophy?
Finally, Bindi and Derek combined the cha-cha and the tango. In their personal interviews, they both said interesting things. Derek said, "One thing that Bindi's taught me is you can have struggle but you can struggle with joy. Whenever it feels too hard she looks at that challenge in the face and she smiles at it." Good philosophy. Another good philosophy is Bindi's when she said, "This last day is going to feel really just like a celebration." When I was watching them perform during the finale, I felt like they were just doing a by-the-numbers dance. Yes, Derek made sure he stuck to the routine and maybe that's why they got a perfect score, but there was no risk. The judges disagreed with me, though. "Another triumph for Bindi the Great!" said Bruno, while Carrie Ann said, "I can't think of a better way, a more perfect way to end this incredible season." All together, they got a 90. Could that get them the Mirror Ball?
Finally, it came down to the three pairs: Alex and Lindsay, Nick and Sharna, and Bindi and Derek. After a montage of all of their dances from this season of Dancing With the Stars, it was announced that the team in third place was…. Alex and Lindsay. They said their goodbye and then hightailed it back to the studio where it was announced who won the Mirror Ball. And he winners of Dancing With the Stars Season 21 are… Bindi and Derek! I knew that they were a shoo-in from the beginning. Only Tamar and Val had a chance of beating them, and when she was eliminated (unfairly), Bindi was a lock-in. She certainly deserved to win, though. Congratulations! Now I'll see you in March for the next season of Dancing With the Stars!
[Photo credit:Â Adam Taylor/ABC]