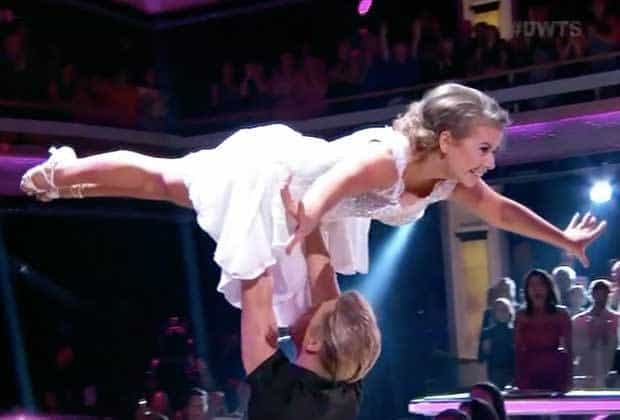 This was hands down one of my favorite Dancing With the Stars episodes of the season. Not only did the show's stars and the pros recreate dances from different movies and music videos, but co-host Leah Remini was hilarious. I'll get to that later, though. First, I'm going to focus on the dancing.
The judges were in a giving mood last night on Dancing With the Starsas they gave out very high scores. They gave out three perfect scores and two almost perfect scores, and when you only have nine couples performing, that's pretty good! The first couple who got a perfect score of 40 was Andy and Allison. Julianne told him that "Every single week you are getting better and better and better." It really shows because I truly thought he was going to have a tough time beating last week's score of 36. He blew the judges away.
Next, we had a score of 40 awarded to Bindi and Derek. Last night was the first night that I could see why Bindi keeps getting those amazing scores. She rocked the routine from Dirty Dancing.
Finally, Tamar and Val were given a perfect score. Performing the "Rhythm Nation" dance from Janet Jackson's music video couldn't have been easy, and Julianne agreed. Tamar didn't mess up once, and after last week, Bruno commented, "That is how you stage a comeback!" My philosophy is that you have to fall just to pick yourself up again every once in a while, and I am glad she did because tonight she did great!
Next, the teams who almost made it were Carlos and Witney and Nick and Sharna. Carlos and Witney, who scored a 38, danced to a song from Magic Mike. He said in his video package that he was having a hard time with this dance and still being faithful to his beliefs. I can understand that. What I can also say is that he was phenomenal! Carrie Ann responded to his concerns by saying, "I know your fears but there was nothing to be afraid of."
Next up were Nick and Sharna, who got a 39. I didn't grow up during the disco era, but I thought he did a fantastic job, especially when he was on his own. Julianne said, "I thought that was a true reinvention of what that dance is," while guest judge Olivia Newton-John told him that "I think you brought disco back."
However, as much as I enjoyed the judges' remarks last night, I didn't agree with them about every couple. Alex and Lindsay only scored a 30, even though he really used his face more this week, as per Julianne's request. She was still talking to him about it, telling him he could do it more. I agree, but hey, at least he's trying. Meanwhile, Paula, who scored a 24 with Louis, seemed to be having fun throughout her dance. While the moves were not flawless, isn't that what dancing should sometimes be? Not according to the judges apparently!
Next, I love Erin Andrews, and I cannot wait for her to come back to Dancing With the Stars, but how funny was Leah Remini last night? She just always seemed to be doing funny things and not taking herself so seriously. From trying to imitate the Dirty Dancing lift with Tom to commenting on the drinking game of her saying amazing all of the time, she just had a good natured way about her. Also, how funny was her microphone, aka selfie stick, when she was interviewing Alexa with the snake? I loved it!
Last night's results will be combined with next week's results, so there will be no elimination next week. However, there was one couple sent home last night: Paula and Louis. She actually took it very graciously. She bowed and said that now she could see her grandchildren. Good for you, Paula!
[Photo via ABC]