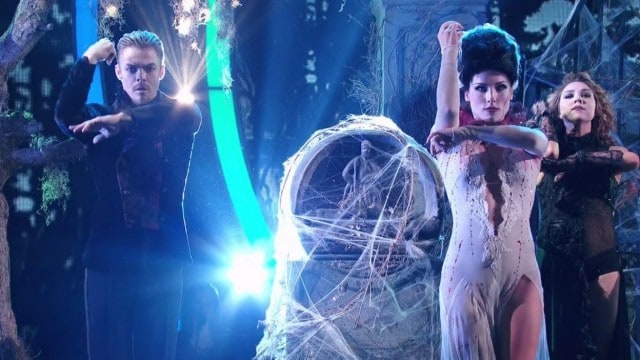 It was time for trick or treats on the Dancing With the Stars Halloween special. I truly believed that everyone, even the lowest-scoring team, stepped up their game. That couple, even in last place, still had 53 points! I know the competition is getting tough, but it seems like these guys are keeping up with it to a certain degree. As much as I don't like some of these stars, I still see the dancing ability and potential that these judges see in them, and I don't want anybody to go home.
Beginning with the top three, we had Bindi and Derek, Hayes and Emma, and Andy and Allison. I would just like people to take into account that I have combined the team dance into these scores, which I'll get to in a second. Bindi and Derek had a score of 58. While I didn't think their dance this week was as good as last week's, the judges thought so. Bruno said, "It was spellbinding dance magic," while Carrie Ann told them, "I never in a million years thought that Halloween night would be the night you shone your brightest."
Hayes and Emma danced their way to a 56. He did do a much better job than last week. By the end of his dance he was working his feet, and Carrie Ann noted the incredible chemistry they have together.
Finally, Andy and Allison paso doble'd up a score of 56. While there was a slight discrepancy about the posture between Bruno and Carrie Ann, Carrie Ann thinks he made it work, because it seemed like he was doing it on purpose.
Now, unfortunately, we have the three lowest-scoring teams, which were Nick and Sharna, Tamar and Val, and Alex and Lindsay. I'm not sure what went wrong with Nick's tango. Maybe it was the fact that he didn't get as much time to rehearse the dance. Maybe he just shouldn't have been given all of the technical parts of the tango. I will give him credit for saying Carrie Ann tells him what she actually thinks. I think that I'd be a little too nervous if I knew the star to give overwhelmingly negative reviews. He got a 54.
Next, we have Tamar and  Val who got a 54 as well. While everyone says that she's a great solo dancer, there's a disconnect when it comes to dancing with her partner. If I can see it, then the judges must see it. Now, they are absolutely right when they say she's "actually the most natural mover" and "driven," but that's only when she's by herself. Val did say Tamar was beginning to trust him in rehearsals this week. Fingers crossed!
Finally, we had Alex and Lindsay. They waltzed last night and got a score of 53. Artem came to training this week, and it really seemed to take his mind off of the fact that in his mind the judges misjudged his dance. Julianne said, "Thank you for coming back to the Alex I remember from the beginning of the competition." Carrie Ann added, "The hero has returned and now you are a contender."
The team dances were all right. Hayes said it best when he made a comment to the confessional, "I really don't want to get eliminated because of this dance." No one should have to. That being said, Team Nightmares wasn't all that impressive. Hayes stood out, as well as Nick and Sharna's crab-walk type thing. Ultimately, I don't think I'm into the whole surrealist style of dancing. They got a perfect score of 30.
Team Who You Gonna Call went after. I appreciated the energy behind their dance and so did the judges. I liked how the Ghostbusters came together and did their part. The two dancers I critiqued, Alex and Carlos, were the two the judges gave compliments, too. I will give kudos to Alexa for her lift. They scored a 28.
Finally, after three teams were in jeopardy tonight (Alexa and Mark, Tamar and Val, and Hayes and Emma), it ultimately was Hayes and Emma who were sent packing last night on Dancing With the Stars. Like I said, I don't want to see anybody leave the show right now. I can see what all of the judges are talking about. I also know that this must be devastating being the youngest star picked and now you have to leave. Hayes was crying! Your votes count towards next week so vote now and vote often!
[Photo via ABC]