Tom Bergeron said it best on the Dancing with the Stars semifinals results show: 'no matter which way this goes, it's going to suck'. He was referring to Donald Driver and Maria Menounos who were placed in jeopardy by the end of the night. Ultimately it was Maria and partner Derek Hough who were sent home and will not compete in the finals.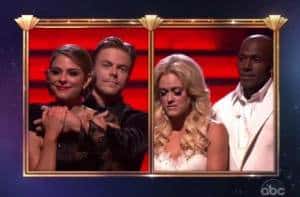 Even though they were the top scoring couple this week, the votes were tallied and they were left out in the cold. Donald trailed her score by 2 points, but sometimes you just can't outnumber the football fans. They carried him into the finals. Joining Donald and partner Peta Murgatroyd are William Levy with partner Cheryl Burke and Katherine Jenkins with partner Mark Ballas. And those are our finalists for Season 14.
In a rare show of compassion, Dancing with the Stars put injured Katherine out of her misery quickly by declaring her safe and sending her into the Finals early on in the show. She looked heartsick while awaiting her fate but when she received her good news she jumped up and down without a trace of back pain. She has been cleared by her doctor to continue dancing.
Not surprisingly, William and Cheryl's sexy samba was the chosen encore dance. We were also treated to a sexy samba by pros Chelsie Hightower and Tristan MacManus, who were chosen for the Design A Dance by viewers' online votes. Their red hot samba was set to Beyonce's "End of Time." Chelsie channeled her inner Beyonce and did not disappoint. Check out the video below. Julianne Hough's return to the ballroom to promote her new move Rock of Ages had very little dancing but lots of rock. She sang too, displaying a pretty good set of pipes. Mary J. Blige is featured in the performance as well. See video below.
Now it's on to the finals of Season 14 and you know what that means…the Freestyles!! Next Monday we will update with all the dances and performances for the two part Dancing with the Stars: The Finals, which kicks Monday, May 21 at 8 p.m. (ET) on ABC.