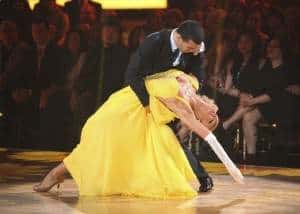 Dancing with the Stars Season 14 returned for Week 2 and yes, showed us that last week was nothing but a dream. What was bestowed on us tonight was nothing short of a nightmare.There were mishaps, the judges were all over the place, Len Goodman was insane, some song choices were horrible and the show even aired the wrong voting numbers for one couple! Dancing with the Stars could have changed its name to Dancing with the Chaos.
All started well when Roshon Fegan gave another stellar performance, this time mastering a quickstep which earned him two 9s. This boy has some serious skills. We may be looking at a finalist here. Len was happy and commended Roshon appropriately.
Then the trouble started. Sherri Shepherd gave what should have been a brilliant jive but she 'missed a pass.' It was very apparent on camera, and you could hear Val say 'we blew it'afterwards. But we also saw her rebound really well, leading the judges to be super kind about it (a rarity). Even though this dance was more challenging for Sherri than her foxtrot last week, they gave her the same score of 23.
Things turned ugly when Melissa Gilbert goofed her quickstep in a few places. Can't blame her, who could pull off a quickstep to a Billy Idol song? Ridiculous. She let us know she dated him back in the day, and maybe the memories were distracting her. The camera only showed one of several screw ups, but you knew from her face when things were going wrong. Melissa needs to summon those acting skills pronto. The judges called her out on letting her nerves show and gave her the same score of 20.
Jack Wagner gave what I thought was a pretty decent jive, but the judges didn't agree. They criticized him a bit harshly and gave him a 21, two points less than last week. He was robbed, no question.
Gladys Knight tackled the quickstep but her frame was off and Len just didn't appreciate the dance. He gave her a 5 and was fiercely booed. Once again, the song choice was poor for a quickstep: Sir Duke by Stevie Wonder. Seriously?
Katherine Jenkins'perfect jive brought some happiness back to the ballroom midway through the show, and she received two 9s. Still, she gets a 26, same as last week. I think we are looking at one of our finalists, and partner Mark Ballas may be looking at his third mirrorball.
Jaleel White, who everyone had such high hopes for, gave a lackluster performance with his jive. For once I agreed with Len, it wasn't sharp enough and it lacked energy. But, the song 'Marry Me'by Bruno Mars, although upbeat, just didn't seem suited for a jive. Jaleel dropped 4 points to a 22.
Maria Menounos missed some steps in her quickstep as noted by the judges, yet she was given a 9! How is that fair when Sherri, Melissa and Gladys all paid a price for their mistakes? Maria received a 25, some 4 points higher than last week. Insane. What's was even more insane was Dancing with the Stars techies flashing William & Cheryl's voting number on the screen during the scoring. It took them until after the next dance to have host Brooke Burke Charvet attempt to correct the error, after Twitter viewers blasted @dancingabc.
Martina Navratilova danced a jive on an injured toe. Not sure if that was to blame for her several screw ups in the dance, but boy did she screw up. She completely lost it at the beginning, rebounded, then lost it a few more times. It was indeed sad, and brought forth more insanity from Len, who stated it was 'too neat'and 'too precise.'Huh? The judges were kind, but not with the scores. She received a 5 from Len and overall a 17, the lowest of the night. I think we will say goodbye to Martina tomorrow night. If you can stand it, see the video of her jive below.
Donald Driver rebounded from last week with a great quickstep, even receiving an apology from Len for underscoring him last week. Donald received a 24 but deserved way better.
Like Jack, Gavin DeGraw gave a pretty darn good jive, but was criticized for poor kicks and flicks. Maybe it was the camera blocking, but I didn't notice anything amiss. He received a 21, one point better than last week. Total rip off.
William Levy took to the floor and the audience went wild once again. His quickstep was very good, and he received a 25. Bruno called him a 'matinee idol'but Len called him out on lack of body contact and footwork. Partner Cheryl promises that William wear less clothing as his scores get higher. She better keep that promise.
The Dancing with the Stars leaderboard for Week 2 combines scores from both weeks:
-Katherine & Mark 52
-Roshon & Chelsie 49
-William & Cheryl 49
-Jaleel & Kym 48
-Sherri & Val 46
-Jack & Anna 44
-Gladys & Tristan 42
-Maria & Derek 46
-Donald & Peta 45
-Gavin & Karina 41 in jeopardy
-Melissa & Maks 40 in jeopardy
-Martina & Tony 37 likely to be eliminated
Seems like the gap will be too wide for Martina to close and she is likely to be eliminated. On Tuesday, March 27, ABC will air a special Dancing with the Stars 'The Story So Far'at 8 p.m. before the Dancing with the Stars Results Show at 9 p.m. Sugarland and Matt Nathanson will perform. The troupe returns with 2 new members, Emma Slater and Henry Byalikovat.