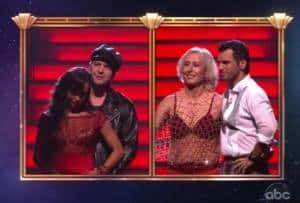 Dancing with the Stars eliminated Martina Navratilova and partner Tony Dovolani after two weeks of competition. Doesn't come as a surprise, given two consecutive weeks of earning the lowest scores, so low that not even her fan base could pull her out of the trenches. While her initial performance of a foxtrot was decent, it lacked the sparkle and fluidity of the other contestants'dances. Add to that a dismal jive with a myriad of missteps and it's time to pack the bags. Watch the elimination in the video below.
It was sad to see the behind the scenes clip of her after the jive that showed how upset she was with herself. Also sad was that Tony can't seem to get a break. He's an amazing pro dancer and yet he's been eliminated so early in the last few seasons of Dancing with the Stars. Prior to the elimination, Gavin DeGraw and unbelievably, Roshon Fegan were placed in jeopardy. Gavin is understandable since he was bottom dwelling both weeks, but Roshon? He has to be a red herring whose '˜jeopardy'status was created purely for drama IMO.
Host Tom Bergeron did however, deem Gavin and Martina the bottom two. So the writing is on the wall for Gavin, step it up, or you will be stepping out of the ballroom. Interesting to note that Gavin placed 1 point higher that Melissa Gilbert on the leaderboard, which means that Team MGMC's fans rallied. I'm tempted to think Melissa was really the one in jeopardy as opposed to Roshon, and perhaps the show didn't want to upset her more since she's already such a bundle of nerves.
Next week the Dancing with the Stars contestants will dance Rumba and Salsa. The next Dancing with the Stars performance show airs Monday, April 2 at 8 p.m. (ET) on ABC.