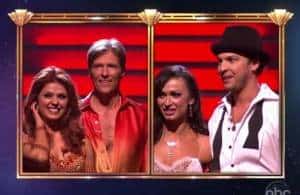 Dancing with the Stars sent home former soap opera and 1980s pop star Jack Wagner in a surprising elimination in week 3 of the competition. Gavin DeGraw and Gladys Knight also found themselves in jeopardy, with Jack and Gavin deemed the (real) bottom two by host Tom Bergeron in the final minutes of the show. All three were among the couples in the 5 way tie with the lowest score of 24. Technically Jack wasn't the best dancer, but he was improving each week and always brought charisma and entertainment to the floor. Sadly for Jack, he was sent home for what judge Len Goodman called his best dance yet. Even sadder was that Jack's 'personal story'samba was in honor of the grown daughter he recently discovered.
This is going to be the first upset of many more to come. The contestants are all so talented this season, every elimination will hurt from here on in. Even cranky pants Len said he wished Dancing with the Stars could roll all the couples into next week, because nobody deserved to go home after this week's dances.
Another surprise tonight was the annoucement from Tom that for Weeks 5, 6 and 7, the bottom two couples will be subject to a "dance duel", with the judges (and not the voters) deciding who stays and who goes. Tom says this twist is in response to viewer upset when good dancers are sent home. No matter how the show wants to position this, Dancing with the Stars will be accused of further 'rigging'the results. We can expect backlash, as fans will highly resent having the power taken from them. Len, Carrie Ann Inaba and Bruno Tonioli better fasten their seatbelts, as there is bound to be even more viewer loathing directed their way.
Next week on Dancing with the Stars is Rock Week, with a performance by the self proclaimed greatest band in the world, KISS, on the Results Show. The next Dancing with the Stars performance show airs live Monday, April 9 at 8 p.m. (ET) on ABC.